Canned Cranberries are okay, but this holiday season take a little extra time and spruce up the canned stuff. It only takes a couple extra ingredients and a couple minutes to add layers of flavor. It can even be made a few days ahead for easier holiday dinner prep!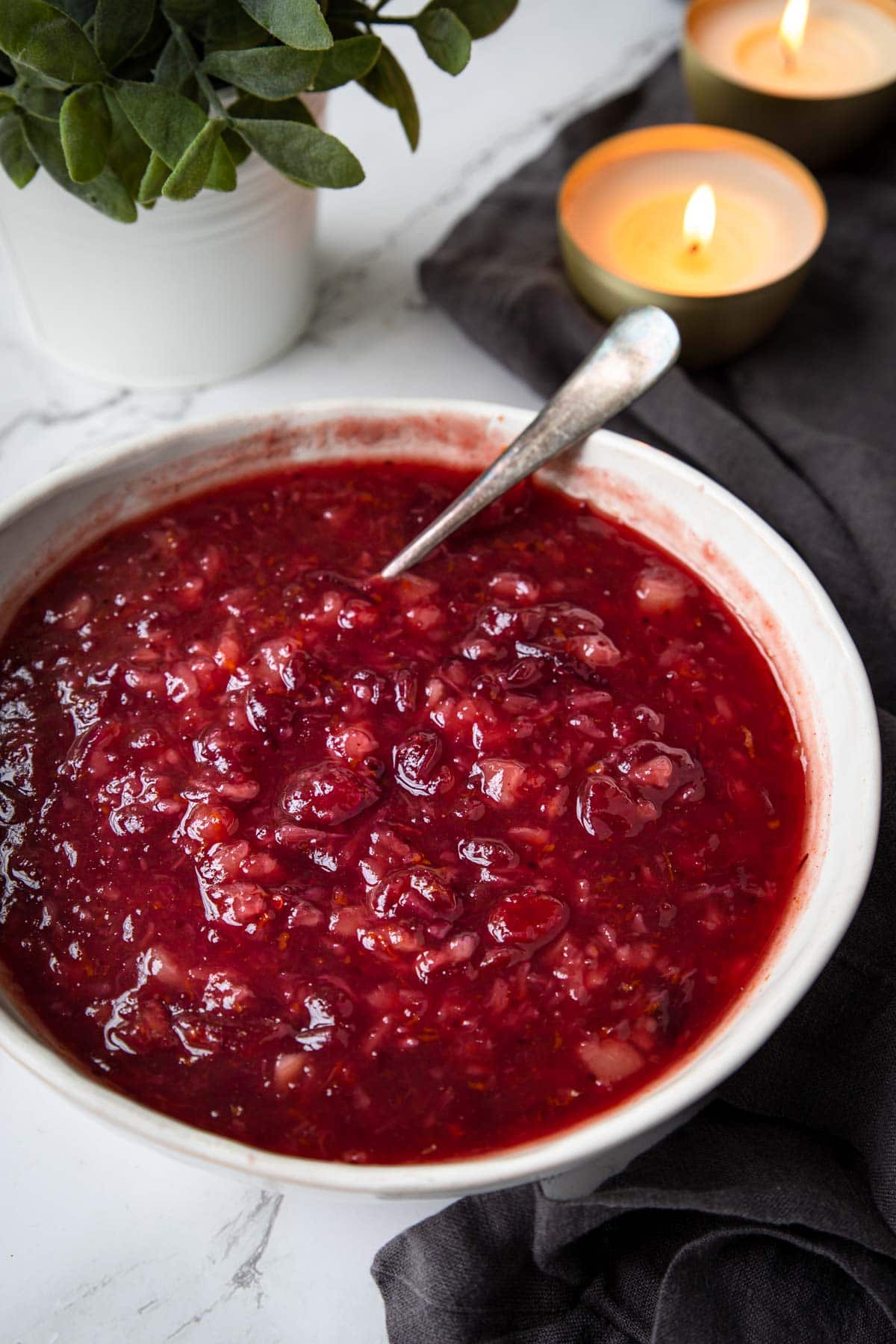 And if you still really want to make them homemade from fresh cranberries (and you have an Instant Pot) you can pop over to this recipe for Instant Pot Cranberry Sauce.
Cranberry Sauce
If you are not familiar with cranberry sauce, sometimes called cranberry relish, it is a condiment or side dish that is made from whole cranberries and sugar. It is a popular holiday side dish served in the United States with Thanksgiving or Christmas Dinner.
It is the perfect complement to any rich and butter heavy dinner. It goes great with Roasted Turkey, Pot Roast, Braised Tri Tip, Pork Roast, or Rosemary Pork Loin.
Canned Cranberries
There are two options when you go to the store to buy canned cranberries.
Jellied Cranberry Sauce
Whole Berry Cranberry Sauce
You want to make sure you buy the whole berry cranberry sauce, we like Ocean Spray brand.
Jellied Cranberry Sauce is the one that gives canned cranberry sauce a bad reputation! It is the one that comes out of the can whole, still showing the ribs of the can, and then gets cut into slices. NO THANK YOU!!!
Whole Berry Cranberry Sauce actually has whole cranberries in it and is surrounded by a cranberry sauce. It is good, but lacks depth of flavor and additional texture. It is a great starting point for your "homemade cranberry sauce".
Ingredients
You only need a few ingredients to dress up your canned cranberries:
Orange Zest – the zest of an orange is literally just the orange peel portion, you want to avoid going to deep or you will also get the white pith under the peel, which can be bitter. A Microplane does a great job of zesting fresh oranges!
Crushed Pineapple – a little pineapple goes a long way in this recipe, you only need an 8 oz can. Make sure you get the crushed pineapple in 100% juice. It adds the perfect texture and sweetness.
Cinnamon & Clove – These two spices are the perfect addition here. The cinnamon is traditional and the clove adds perfect depth of flavor and warmth.
Step by Step Instructions
Start by opening the cans of whole cranberry sauce and pop them into a medium saucepan. You may need to run a knife or spoon between the cranberries and the can to get them to release.
Place the pot over low heat .
Now add the orange zest from a medium or large orange, canned crushed pineapple with juices, ground cinnamon and clove.
Stir it around the pot and let warm through for about 10 minutes.
Remove from the heat and let it cool.
Serving
You can serve your cranberries warm, cold or at room temperature, it is completely personal preference.
To serve them warm, you can cook them right before dinner and then let them cool for a while and serve. Or make ahead and then warm on the stove or in the microwave for a minute.
To serve cold (my favorite way to serve them!) make the cranberries ahead and then pop in the refrigerator for a couple hours or a couple days. Give them a stir and place them on the dinner table.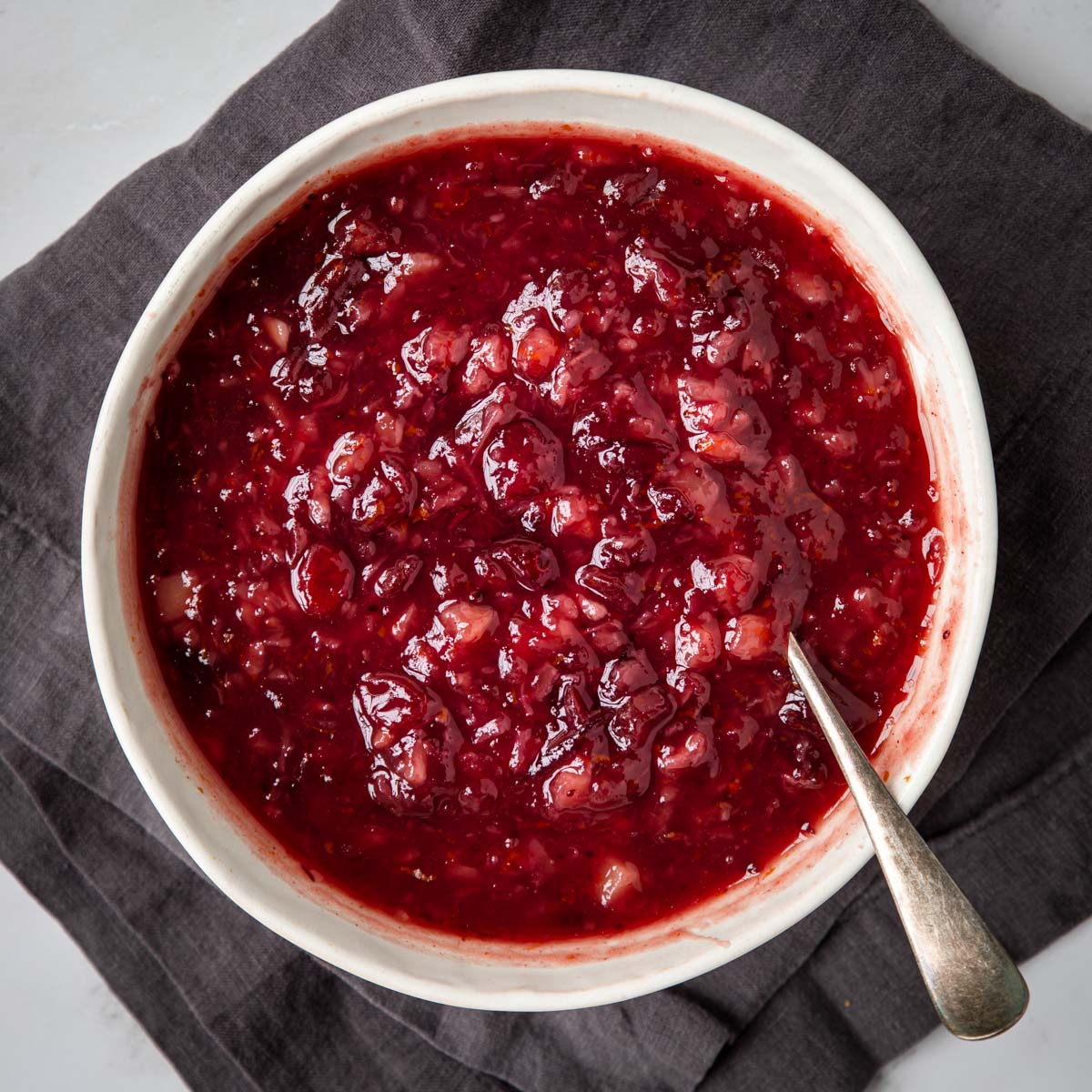 Making It Sweeter
Give the cranberries a taste. There is already quite a bit of sugar in the canned cranberries, but if you still like it a little sweeter, try using some of these options, adding just a little at a time:
brown sugar
white sugar
maple syrup
Making It More Tart
If you like tart cranberries then you want more acid. Achieve this by adding a little lemon juice, taste, and add more as you like.
Using Leftover Cranberry Sauce
Store any leftover cranberry sauce in the fridge, covered, for up to a week.
It is excellent added to leftover turkey sandwiches, over ice cream, or served with other proteins like pork chops, roasted pork loin
More Delicious Holiday Side Dishes
---
Did you make this recipe?!
If you make this recipe I would love to hear your review. Pop down to the comment section and connect with me.
Then sign up for our Weekly Newsletter so you never miss a new recipe!
Canned Cranberry Sauce Recipe
A recipe to turn your canned cranberry sauce into a spectacular side dish for your Holiday feast! They will taste just like homemade, no one will ever know they started in a can!
LISTEN TO THE AUDIO RECIPE WITH THE PLAYER BELOW.
Print
Pin
Rate
Save
Saved to Grow
Ingredients
2

(14 oz.)

canned whole berry cranberry sauce

8

oz

crushed pineapple in juice

– do not drain!

orange zest of 1 orange

– medium or large size

¼

teaspoon

ground cinnamon

healthy pinch of ground clove
Instructions
Place all the ingredients in a sauce pan over low heat. Stir to combine

Warm together for 10 minutes, stirring occasionally.

Taste for sweet/tart preference!

To make sweeter add a little brown sugar, maple syrup or white sugar.To make more tart squeeze in a little lemon juice.

Remove from the heat and cool for 15-20 minutes.
Serving/Storing
Canned Cranberries can be served warm or cold.

(Cold is my preferred way! It adds a nice temperature contrast to the warm/hot meal)

You can make these up to 3 days ahead and store in the fridge, covered. Give them a stir before serving cold.

Or heat them over low for a few minutes to serve warm.

Leftovers are great on turkey sandwiches or over ice cream!
Did you try this recipe? Connect with me & let me know how it turned out by commenting below!
Jump to Comments
Serving:
1
serving
|
Calories:
134
kcal
|
Carbohydrates:
34
g
|
Protein:
1
g
|
Fat:
1
g
|
Saturated Fat:
1
g
|
Polyunsaturated Fat:
1
g
|
Monounsaturated Fat:
1
g
|
Sodium:
23
mg
|
Potassium:
49
mg
|
Fiber:
1
g
|
Sugar:
33
g
|
Vitamin A:
45
IU
|
Vitamin C:
4
mg
|
Calcium:
7
mg
|
Iron:
1
mg
If nutrition facts are provided they are calculated as an estimate to the best of our knowledge.