Weekly Meal Planning can be hard. What should we eat this week? What do I need to buy at the store? Let me answer both of those questions with my free weekly meal plan including a printable grocery list!
FAMILY MEAL PLAN
Your family needs to eat, and the job of feeding them lands squarely on your shoulders.
The key to making this job easy is MEAL PLANNING!
Plan all your meals for the week, write out your grocery list, and then head to the store to buy the groceries. Sounds easy enough, but I think a lot of us just end up at the grocery store buying the same things week after week, and then we get home and say "I have nothing to cook for dinner!"
Prevent this from happening now! Sign up for the Mom's Dinner Newsletter and have my Weekly Menu Plan and Printable Grocery List delivered to your email every Friday morning. Cross off the groceries you already have in your kitchen and head to the store completely prepared!
WEEKLY MEAL PLAN #5
I provide 4 delicious and easy dinners, with recipes, that you can make for your family this week. You simply add three more meals and your 7 day family meal plan is done. Here are three dinner categories I recommend adding to your plan :
One night out.
A leftover night (leftover re-do ideas provided below)
Kids Choice night (think pizza, chicken fingers, tacos, spaghetti, or mac n' cheese)
I have other meal plans too, if this one isn't your jam!
Breakfast For Dinner
Breakfast for dinner is always a winner at our house. These Sausage Egg Cups are the perfect weeknight dinner. If you have a super busy week, make them ahead and simply warm them up in the microwave at dinner time.
Pair this dinner with some fresh fruit and hashbrowns.
Sheet Pan Chicken Fajitas
Jump on the sheet pan dinner bandwagon with this Chicken Fajitas recipe. It is full of seasoned chicken, peppers, tomatoes, onions and pinto beans. Then it is all topped with a delicious cilantro lime vinaigrette. Just add some warm flour tortillas, your favorite fajita toppings, and some chips & salsa
Chicken Noodle Soup for Kids (and adults too)
Keep everyone happy with this dinner- Chicken Noodle Soup for Kids. It is onion-free, and green-stuff-free for the kids, but FULL of flavor full the adults.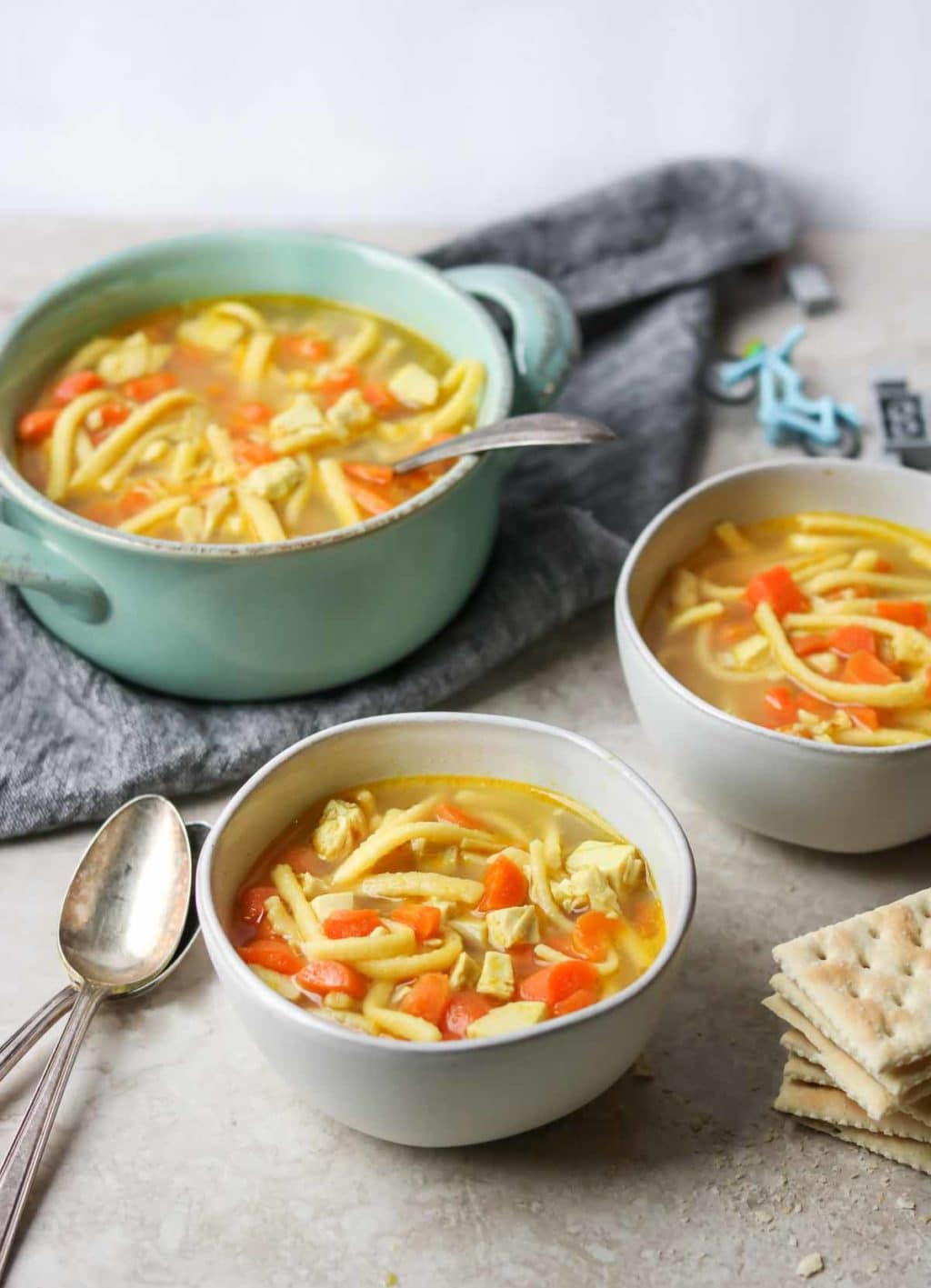 Crispy Chicken with Goat Cheese & Sun Dried Tomatoes
The meal plan for this week falls on Valentine's Day, which is on a Thursday this year. Not great day for a date night (or finding a baby sitter) if you ask me! This Crispy Chicken with Goat Cheese and Sun Dried Tomatoes will make a great date night at home. Pair it with oven roasted asparagus and a store bought rice pilaf.
Leftover Re-Do Ideas
Any leftover chicken fajita mixture to make chicken burritos. Add a little mexican rice and cheese to the chicken fajita mixture and wrap it in a flour tortilla. Put it in a baking dish and pour a 10 oz can of enchilada sauce over top, sprinkle a little cheese over the sauce and bake at 350 for 20 minutes.
Leftover Crispy Chicken with Goat Cheese AND any leftover asparagus can be reheated and served on top of pasta with marinara sauce.
Leftover egg cups are AWESOME as is… but for a re-do saute some additional veggies (peppers, mushrooms, onions), chop up the egg cups and add them on top with a little melted cheese for a delicious egg & veggie scramble.
FREE PRINTABLE GROCERY LIST
Head to the store with confidence that you will end up with groceries to actually make dinner for your family!
Simply cross of the items that you already have in your kitchen, and then add the items you need for the rest of the week (lunches, breakfasts, pantry staples, etc…).
Click on the image below to print the grocery list