Hot dogs are good, but make Homemade Chili Cheese Dogs and we are talking REALLY GOOD!! This Chili Cheese Dog recipe is topped with a delicious quick chili that is made on the stove top while the hot dogs and buns warm (steam) in the oven. It all comes together in under 30 minutes and is such a treat!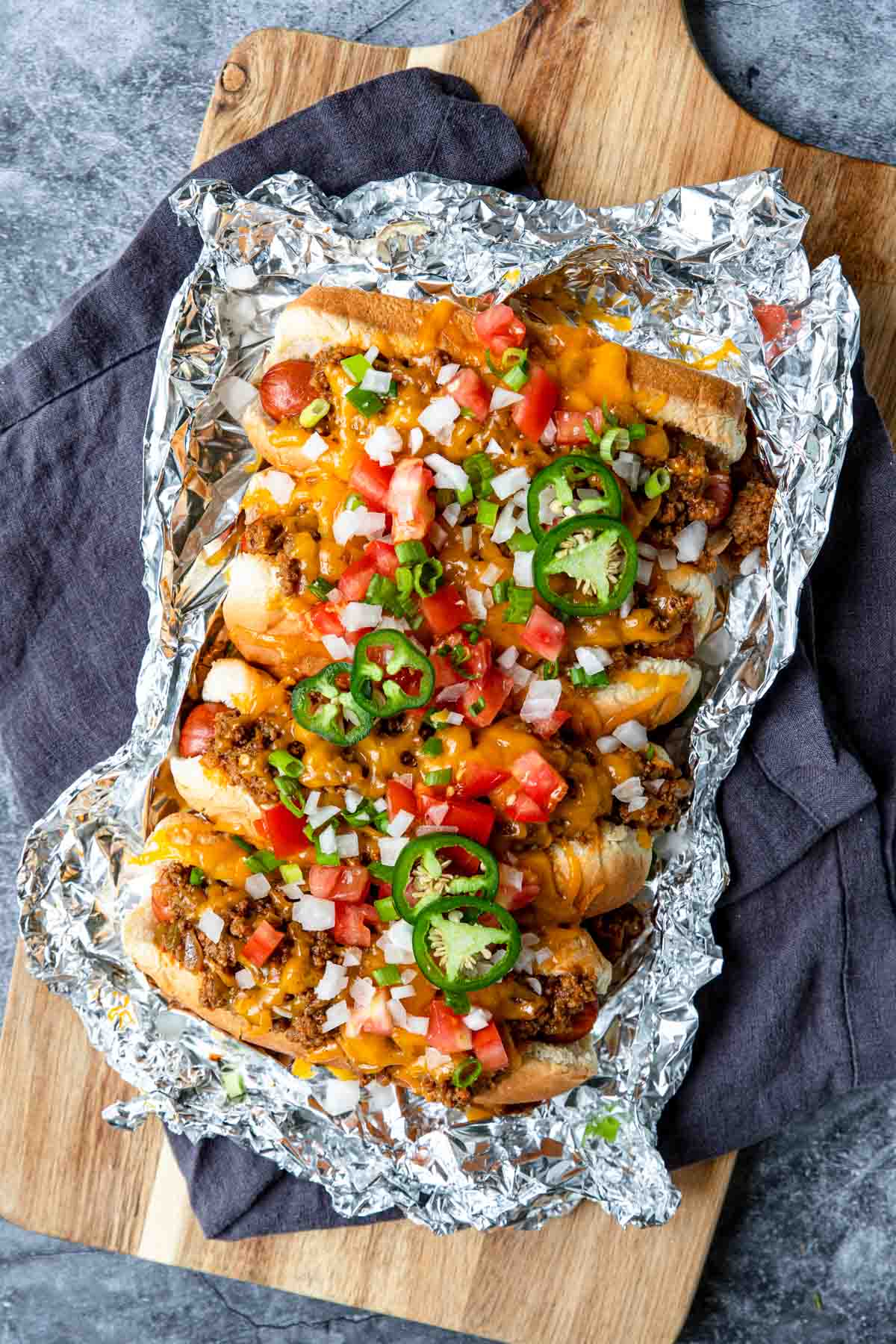 Why These are the BEST
They are fast and easy!
The chili cheese dogs are steamed in the oven, not really baked… so your buns are nice and tender.
Who doesn't love a chili cheese dog!?
The homemade stove top chili has amazing flavor and is easy to make.
Everyone can customize their own chili cheese dog with toppings.
Ingredients
There are two sets of ingredients you need for these Oven Chili Cheese Dogs – the chili and the hot dogs/buns.
Chili – For the chili I recommend using an 85/15 or 90/10 ground beef. That way you get enough flavor from the fat, but not so much that your chili is greasy.
Hot Dogs – I recommend buying the best hot dogs you can. I usually like to buy the "all beef uncured" hot dogs. They have the best flavor and texture.
Steaming not "Baking"
Steaming the chili dogs in the oven is one of the secrets to making really good chili dogs!
The hot dogs and buns get just enough steam in the foil packet to warm the dogs through and keep the bun soft and not crusty.
Step by Step Instructions & Tips
Start by preheating your oven to 400 degrees. Also place a pan of water on the lower rack of the oven. This will create the steam you want to steam cook the hot dogs and buns.
Pro Tip: Be very careful when you open the oven, the steam will rush out and it is HOT!!!
Now grab 2 large sheets of foil. Lay 4 hot dog buns in each and then pop a hot dog in each bun. Fold it up into a little packet.
Pro Tip: Making 2 chili dog packets instead of 1 makes it easier to lift in and out of the oven.
Pop in the oven for 15 minutes.
While the hot dogs and buns are warming in the oven go ahead and make the chili on the stove top.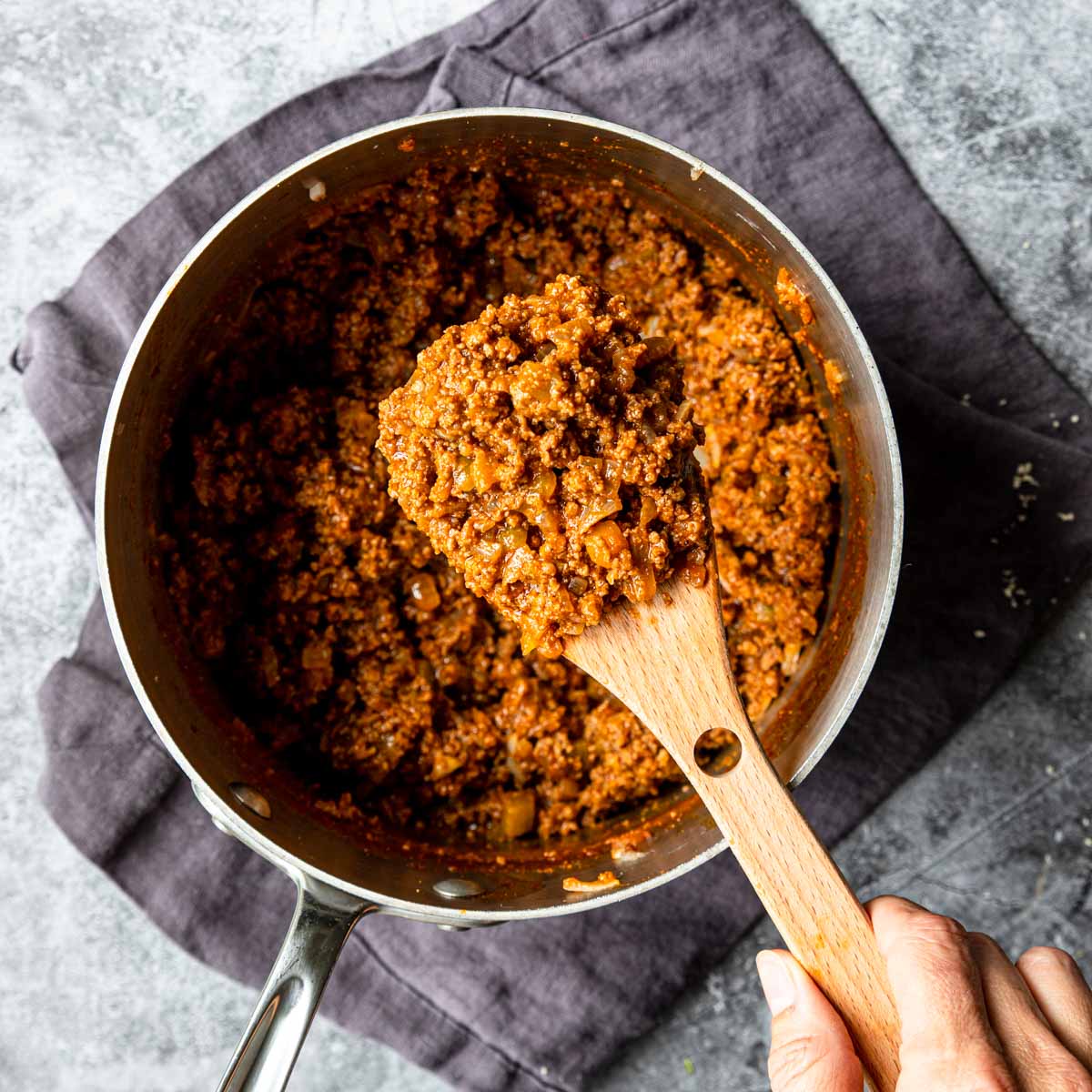 Remove the hot dogs from the oven (carefully!!). Open the packets and top the dogs with a generous amount of chili and then sprinkle on the cheese.
Keep the packets open at this point and pop them back in the oven for about 3-4 minutes until the cheese is melted.
Finish them up with all your favorite chili dog toppings. My faves are pickled jalapenos, diced white onions and mustard.
Chili Cheese Dog Toppings
The sky is the limit with chili dog toppings. Think about a classic Chicago Dog, New York Dog or a Senora Hot Dog, what are your favorites?
pickled or fresh jalapenos
diced tomatoes
shredded lettuce
mustard, ketchup, mayo
diced red or white onion, or green onions
diced dill or sweet pickles
crumbled crispy bacon
Fritos!
Make Ahead
I definitely would not recommend that you make the entire chili dog ahead of time. BUT the chili can absolutely be prepped ahead of time, up to 4 days.
You can also make the quick chili and freeze it until you are ready to use, up to 3 months!
Other Chili Recipes
If you want more of a traditional chili on your Chili Cheese Dogs here are a few Chili Recipes on Mom's Dinner:
Related Recipes
---
Did you make this recipe?!
If you make this recipe I would love to hear your review. Pop down to the comment section and connect with me.
Then sign up for our Weekly Newsletter so you never miss a new recipe!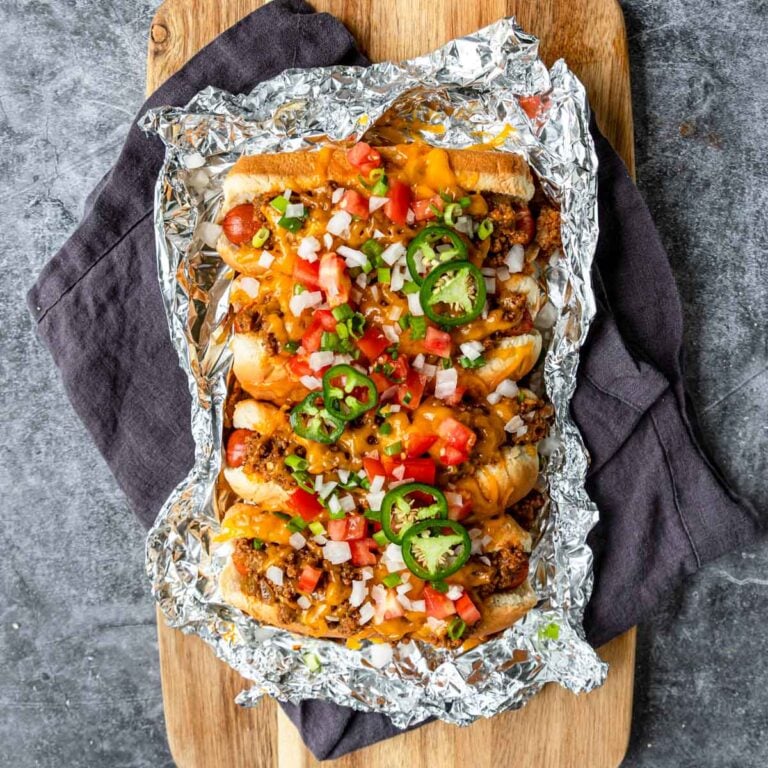 Oven Chili Cheese Dogs
Perfect Chili Cheese Dog recipe! The bun is nice and soft, the hot dog is warmed through and the homemade chili is seasoned perfectly!
Print
Pin
Rate
Save
Saved to Grow
Servings:
8
chili cheese dogs
Ingredients
Hot Dogs
8

hot dogs

(recommend all beef, uncured hot dogs)

8

buns

1

cup

shredded sharp cheddar cheese

favorite toppings (see notes)
Instructions
Preheat the oven to 400. Place a pan of water in the oven on the lowest rack.

Cut 2 large sheets of foil and place 4 buns with 4 hot dogs in each packet. Fold closed and pop in the oven, on the middle rack over top of the pan of water, for 15 minutes.

Meanwhile, on the stove top in a medium sized pot heat the olive oil over medium heat. Sauté the onions for 5 minutes. Add the ground beef and crumble while cooking through. If there is excess grease, drain off before moving on.

Pour in the green chilies and tomato sauce, add all the spices and seasonings. Give it a good stir to combine. Warm through for 2 minutes.

Remove from heat.

Carefully open the oven (it will be full of hot steam!!). Pull out the packets.

Open the tops of each pouch. Pour the chili over each hot dog and top with the shredded cheese.

Pop back in the oven, uncovered, for another 3-4 minutes, until the cheese is melted.

Serve with a buffet of optional toppings!
Notes:
The Chili can be made ahead! Keep in the fridge for up to 4 days. Keep in the freezer for up to 3 months.
Topping Ideas:
pickled or fresh jalapenos
diced tomatoes
shredded lettuce
mustard, ketchup, mayo
diced red or white onion, or green onions
diced dill or sweet pickles
sauerkraut
crumbled crispy bacon
Fritos!
Feeding a Crowd: This recipe is EASILY doubled or tripled!
Did you try this recipe? Connect with me & let me know how it turned out by commenting below!
Jump to Comments
Serving:
1
chili cheese dog
|
Calories:
508
kcal
|
Carbohydrates:
46
g
|
Protein:
24
g
|
Fat:
25
g
|
Saturated Fat:
9
g
|
Polyunsaturated Fat:
1
g
|
Monounsaturated Fat:
10
g
|
Trans Fat:
1
g
|
Cholesterol:
72
mg
|
Sodium:
1185
mg
|
Potassium:
403
mg
|
Fiber:
2
g
|
Sugar:
7
g
|
Vitamin A:
537
IU
|
Vitamin C:
4
mg
|
Calcium:
118
mg
|
Iron:
14
mg
If nutrition facts are provided they are calculated as an estimate to the best of our knowledge.