I love Sloppy Joes, it's a dinner that I ate a lot growing up in Iowa. It is a common recipe, sometimes called a Maid Rite if you're from the midwest, yet it varies widely from home to home.
At my house a Sloppy Joe is ground beef and onions with a savory and tangy sauce that has a hint of sweetness. Most of the ingredients are probably in the door of your fridge right now.
The best part is it all gets heaped onto a bun- super casual, super messy, and super tasty!
Make Homemade Sloppy Joes Your Own
Of course I think this recipe is perfect just the way it is. But, here are a few ideas to change it up to suit your taste buds:
Lighten things up by using ground turkey instead of ground beef.
Want just a hint of BBQ flavor? Reduce the ketchup to ¼ cup and add a ¼ cup of your favorite barbecue sauce.
If you like spice you could add a few pinches of red pepper flakes with the onion and garlic.
Sometime (always) I like to eat mine with hamburger dill chips…. it made my mouth water just to type that- HA!
Melt a slice of provolone or american cheese over the top.
Homemade Sloppy Joes for Dinner
This is really a casual dinner… and a messy one, but I love it! We usually serve this diner style with tater tots, fries, or chips and some raw veggies with dip.
If you want to fancy it up a bit you could serve these delicious Parmesan Truffle Fries from Lauren at Hunger Thirst Play.
In the summer Sloppy Joes go great with a cold pasta salad, corn on the cob, and my chocolate cake for dessert.
Whatever you serve on the side just make sure to have A LOT of napkins!
Sloppy Joes + Pickles = True Love Forever
I decided to have lunch and a photo shoot at the same time! I couldn't help it – as soon as I got the pickles out it was over!
Now this is how you eat a Sloppy Joe:
I hope you give my Homemade Sloppy Joe recipe a try in your kitchen!
Love, Susie
Homemade Sloppy Joe Recipe
---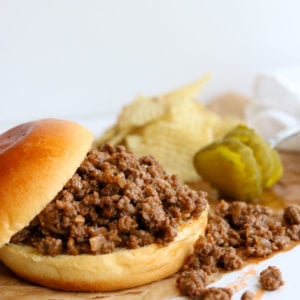 Homemade Sloppy Joes
Sloppy Joes are a classic recipe that is made of ground beef mixed with a sweet, tangy, and savory sauce. Pile the Sloppy Joe filling high on a bun, add some pickles and dinner is ready!
Print
Pin
Rate
Ingredients
1½

lb

ground beef

1

tablespoon

oil

1

cup

yellow onion

finely diced

3

garlic cloves

minced

2

tablespoon

worcestershire sauce

3

tablespoon

brown sugar

½

heaping cup ketchup

1

tablespoon

+ 1 teaspoon mustard

1

teaspoon

kosher salt

pepper to taste
Instructions
Add the oil to a large skillet over medium high heat. Cook the ground beef, crumbling, until cooked thru, about 7 minutes.

Drain the fat off of the cooked beef and set aside.

In the same skillet, over medium heat, add the onions and garlic and saute, until the onions are translucent, about 3-4 minutes.

Add the beef back to the onions and stir to combine.

Over low heat add the worcestershire sauce, brown sugar, ketchup, mustard, salt and pepper. Stir to distribute the sauce evenly.

Pile high onto buns and serve. (we like brioche buns the best)
Notes:
If you are making this ahead and reheating you will need to add a few tablespoon of water. It will help loosen up the mixture and redistribute the sauce.
Did you try this recipe? Connect with me & let me know how it turned out by commenting below!
Jump to Comments
If nutrition facts are provided they are calculated as an estimate to the best of our knowledge.