Lemon Penne with Oven Roasted Broccoli is a pasta recipe that is super simple to make. It is bursting with fresh lemon flavor and lightly caramelized oven roasted broccoli. It is sure to become one of your favorite go-to dinners.
This recipe is a highly requested dinner at my house. My husband and I have been eating it for years. It started as a recipe from Ina Garten called Bow Ties & Broccoli. However, thru the years, I have morphed the recipe by removing this.. adding that… changing this… and it has now turned into my Lemon Penne with Oven Roasted Broccoli.
Oven Roasted Broccoli & Pine Nuts
If you love broccoli you will love this pasta recipe!:
For this recipe I prefer to oven roast my broccoli at 400 degrees for about 12 minutes. This leaves the broccoli nice and al dente so it still has a little bite. I think that texture holds up nicely next to the pasta.
Now if you like your roasted broccoli just a little more caramelized then you can either bump up the temp. to 425 and stick with the 12 minutes, or keep it at 400 and roast it a little longer, between 15-18 minutes. Just keep an eye on it to make sure your broccoli doesn't burn!
However long you choose to cook your broccoli, just make sure to toss the pine nuts on the baking sheet for the last minute or two to give them a nice toasting. It really brings out the buttery almost bacon-y flavor of the pine nuts! YUM
Lemon Garlic Butter Sauce
How good does that sound, Lemon Garlic Butter Sauce! My mouth waters just from typing it.
This sauce is where the flavor is at in this recipe. It is a buttery sauce with a burst of fresh lemon and a kick of garlic. Those flavors compliment the roasted broccoli perfectly!
It is a super simple sauce to make. You only need 4 ingredients:
Butter
Olive Oil (I like to use Extra Virgin Olive Oil for its flavor)
Lemon
Garlic
In a sauce pan you melt the butter and olive oil together. Add the lemon zest and garlic and let it lightly simmer for a few minutes. Off the heat you add the fresh lemon juice and a little salt. That is it.
Variations on Lemon Penne with Oven Roasted Broccoli
I have perfected this recipe thru the years to suit my families taste buds. You may want to try some different variations depending on your families palate. Here are some ideas to get you started:
I know my kids can be picky about the type of pasta I use (which is crazy because they all taste the same for God's sake!). Try using spirals, macaroni, or bow ties.
Add some fresh grated Parmesan cheese over the top for an extra layer of flavor.
If you want to add some more veggies you could try throwing some cherry tomatoes, and zucchini on the sheet pan with the broccoli for the last 5 minutes of cooking time. This would make a nice pasta primavera!
In the spring when asparagus is in season and inexpensive try subbing it for the broccoli.
Substitute chopped walnuts for the pine nuts. Just make sure to still roast them in the oven with the broccoli. This will bring out their natural buttery flavor.
If you have a spiralizer, try this recipe using zoodles (zucchini noodles) instead of pasta.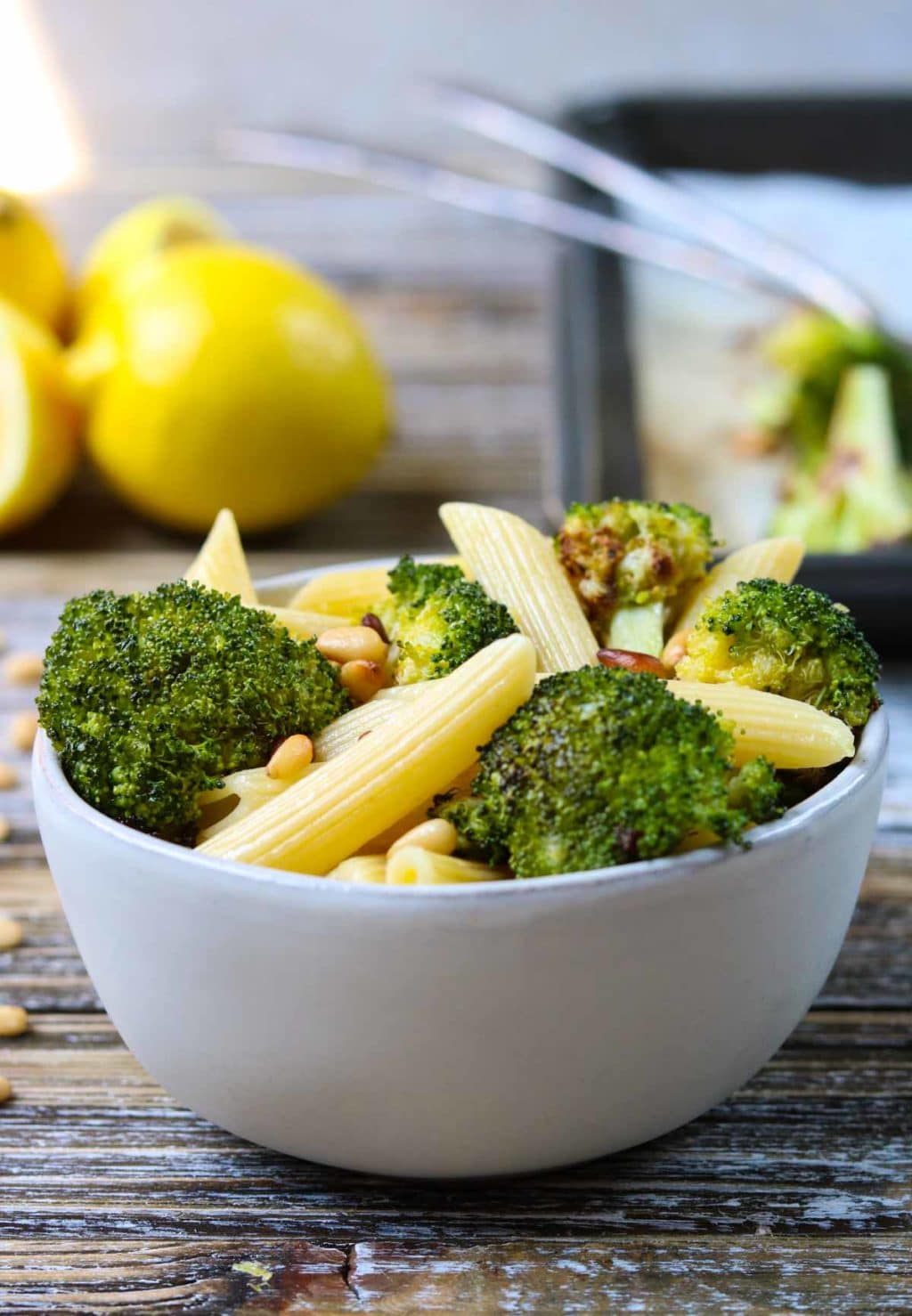 Making it a Dinner
To be totally honest, when we have this for dinner during the week I usually do not make an additional side dish.
However, you could add a little Marinated Grilled Chicken, and some garlic bread to make this a wonderful weekend dinner or entertaining dinner. Or if your kids love chicken nuggets toss some in the oven with the broccoli!
If you are looking for a great dessert to pair with this dinner, my Summer Berry Cobbler is the perfect pick!
More Pasta Recipes To Love
---
Did you make this recipe?!
If you make this recipe I would love to hear your review. Pop down to the comment section and connect with me.
Then sign up for our Weekly Newsletter so you never miss a new recipe!
Lemon Penne with Oven Roasted Broccoli
A super simple pasta dinner recipe. Oven roasted broccoli is tossed with penne and pine nuts and a lemon garlic butter sauce.
Print
Pin
Rate
Save
Saved to Grow
Ingredients
½

lb.

penne pasta

cooked per package instructions

3

cups

broccoli florets, cut into bite size pieces

(this will be 1 large head of broccoli)

2

tablespoon

pine nuts

2

tablespoon

butter

2

tablespoon

olive oil

(I like to use extra virgin olive oil)

1

tablespoon

lemon zest

(about 1 lemon)

3

tablespoon

fresh lemon juice

½

tsp

salt

2

plump garlic cloves, sliced thinly
Instructions
Recipe Note: Multitask this recipe so that dinner is ready a little faster, while the pasta is boiling and the broccoli is roasting make the lemon garlic butter sauce.
Pasta
Cook the penne pasta according to package instructions.

Drain and set aside.
Oven Roasted Broccoli
Preheat the oven to 400 degrees.

Place the broccoli florets on a sheet pan lined with foil or parchment paper. Drizzle with a generous glug of olive oil and sprinkle with a little salt. 

Roast in the oven for 10 minutes. (Note-If you like more caramelization leave it in the oven for a minute or two longer.)

Add the pine nuts to the baking sheet (with the broccoli) and roast and additional 1 ½ – 2 minutes.

Set aside.
Lemon Garlic Butter Sauce
In a small sauce pan add the butter and olive oil over low heat.

Once the butter is melted add the garlic and lemon zest. Cook for 2-3 minutes, making sure the garlic does not brown!

Remove the pan from the heat and add the lemon juice and salt.
Assemble
In a large bowl combine the pasta, pine nuts, and broccoli. Drizzle the lemon garlic butter sauce over the pasta mixture and toss to coat. 

Serve immediately. 

**Optionally toss in some fresh grated parmesan cheese
Did you try this recipe? Connect with me & let me know how it turned out by commenting below!
Jump to Comments
If nutrition facts are provided they are calculated as an estimate to the best of our knowledge.