This recipe for Homemade Marinara Sauce is a rich tomato based sauce full of traditional marinara ingredients: fresh basil, spices, garlic, onions, flavorful tomatoes, and herb flavored extra virgin olive oil. It tastes like it simmered in your Grandma's kitchen all day but it is ready in under 1 hour!
Perfect for any pasta recipe that calls for marinara or tomato sauce or meatball recipe.
Balancing Flavor
You will add a few unique ingredients to make sure your Homemade Marinara Sauce has the best and most balanced flavor.
The addition of balsamic vinegar adds a warm flavor in the background. A little sugar balances the acidity of the vinegar and tomato.
The unexpected ingredient of evaporated milk adds just a hint of creaminess without making it a "cream sauce", it also soothes the acidity of the tomatoes.
Ingredients
You need really good canned tomatoes, some fresh herbs and spices from your cabinet to make really good homemade marinara sauce.
Cento Crushed Tomatoes
Since tomatoes are the star of this recipe, I recommend buying the very best canned tomatoes you can.
I prefer to use Cento Crushed Tomatoes, they are a super high quality canned tomato product that is easy to find. Cento Crushed Tomatoes are grown in California, abiding to the high quality standards of the Cento company. Resulting in a super flavorful, rich tomato product.
If you want to have an authentic Italian grown tomato you could also choose to use Cento's Organic Crushed Tomatoes or Whole Peeled San Marzano Tomatoes. Both of these products are grown in Italy.  However, only the Whole Peeled Tomatoes follow the strict guidelines that come with being Certified San Marzano.
Extra Virgin Olive Oil
Using a good extra virgin olive oil is also key in this recipe. You do not want to use plain olive oil, it will not give you the same flavor. Extra Virgin Olive Oil is the one that has intense, rich, buttery olive flavor that you can truly taste.
Just make sure the bottle says "extra virgin" on the label.
Fresh Herbs
Fresh rosemary and basil add a beautiful herbaceous flavor to this Marinara recipe. They are fried in the EVOO, releasing all their flavor into the oil, which is then infused into the entire pot of sauce.
The fried herbs are discarded and then the remaining basil gets chopped and added to the sauce. Lending the perfect Italian flavors.
Evaporated Milk
There is one unusual ingredient that I add, evaporated milk. I do this to create an almost creamy texture and taste to the marinara. It is not the same as adding half and half or heavy whipping cream, that would turn this recipe into a true cream sauce.
The evaporated milk just mellows the acidity and gives it a velvety flavor. You can also simmer the evaporated milk without worrying it will curdle.
Step by Step
I love how you start this recipe, by frying the fresh rosemary and 6 basil leaves in the extra virgin olive oil. It is such a simple step but makes such a difference in the flavor of your Homemade Marinara!
When the herbs start to get crispy, about 5 minutes, pull the herbs out and discard. Some pieces may crumble off into the oil, that is ok, but try to get the majority of the herb solids out of the oil.
In the now fragrant oil, add the onions and garlic and sauté over medium low heat for about 5 minutes until the onions are softened.
Pro Tip: If you don't like having onion pieces in your sauce you can also just cut an onion in half and place in the sauce. Then discard at the end of cooking.
Now add all the remaining ingredients: fresh basil, Cento Crushed Tomatoes, onion powder, dried oregano, salt, sugar, pinch of red pepper flakes, balsamic vinegar, and evaporated milk. Stir everything so it is well combined, place the lid on the pot and simmer over medium low heat for 20 minutes.
You will want to stir the sauce occasionally to make sure the tomatoes do not burn on the bottom.
Once the tomato sauce is ready taste for seasoning (salt and pepper) and pour over your warm pasta.
Making Ahead
You can also make this Homemade Marinara Sauce ahead and store in the fridge for use during a busy week.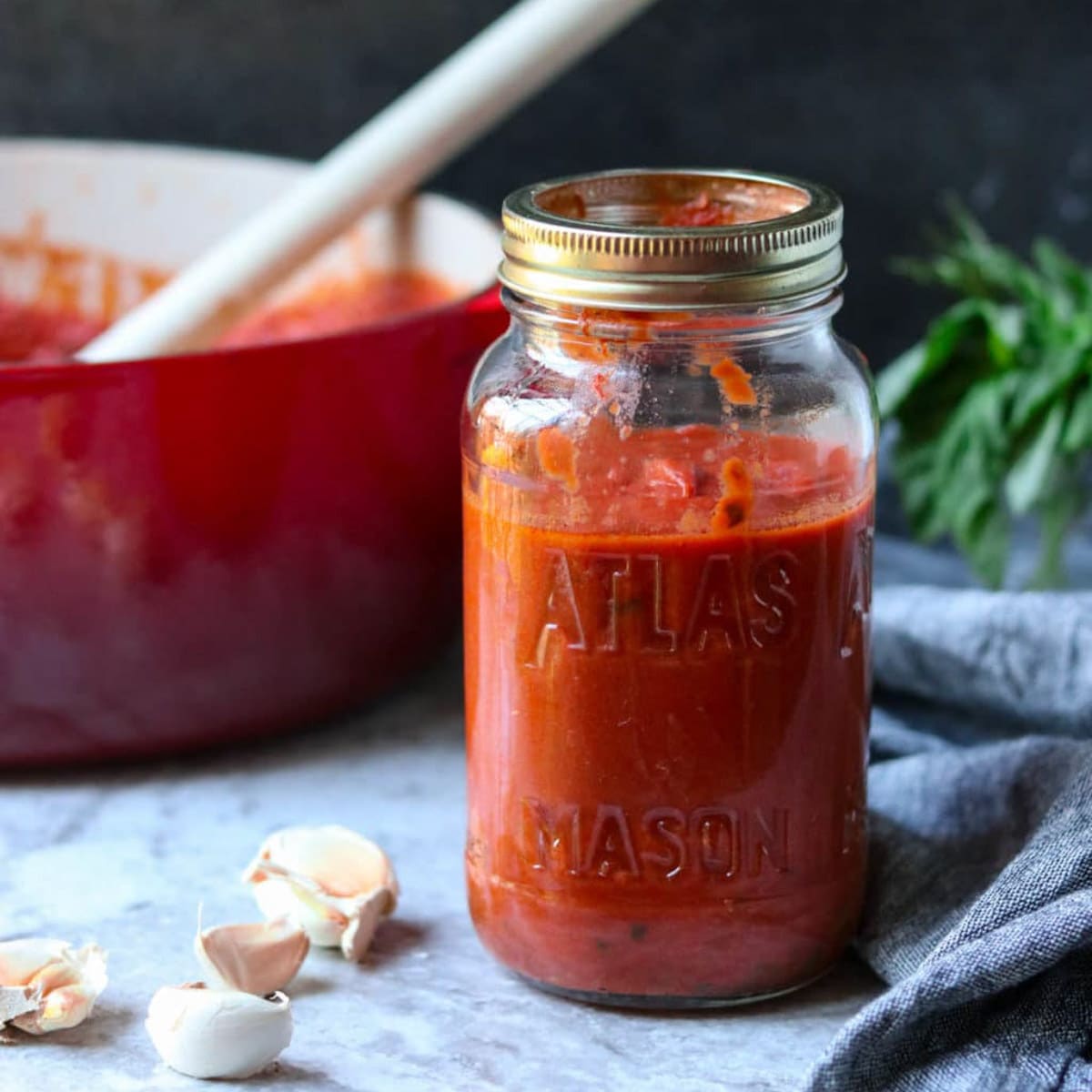 Follow the instructions but then let the sauce cool for about 25-30 minutes and then place in an airtight container in the fridge for 4-5 days. You may need to thin the sauce with ¼ cup of water when reheating.
Variations
You will love this recipe just as is, but it is easily customizable to suit your family's taste buds. Here are a few ideas:
After the sauce is cooked stir in cooked and drained ground beef or ground Italian sausage for a meat sauce.
If you like your sauce spicy add more than a pinch of red pepper flakes.
Make this a true tomato cream sauce by adding ⅓ cup of heavy whipping cream after it is done simmering.
Use this sauce as a sub in your favorite recipes calling for marinara.
If you want an authentic San Marzano tomato flavor, use the Cento Whole Peeled Tomatoes. Just crush them by hand before adding them to the pot.
Uses for Homemade Marinara Sauce
Like I said before this is a tear free dinner at our house, so it is a Mom's Dinner favorite! This Homemade Marinara Sauce gets spooned over spaghetti or penne and garnished with Parmesan cheese, red pepper flakes, fresh basil, or all three.
You can also use it in dishes that call for marinara; Italian Meatballs, Meatball Sub Sandwiches, or Lasagna.
Side Dishes To Make It Dinner
On a busy night it is served with an easy to make bagged Caesar salad. On the weekend when we have a little more time to prep dinner and sit around the table I will add a Big Italian Salad, sauteed garlic green beans or roasted fennel and garlic bread.
More Italian Style Recipes
If you like this Italian recipe, you may also want to check out these recipes on Mom's Dinner:
---
Did you make this recipe?!
If you make this recipe I would love to hear your review. Pop down to the comment section and connect with me.
Then sign up for our Weekly Newsletter so you never miss a new recipe!
Homemade Marinara Sauce Recipe
A super flavorful Homemade Marinara Sauce that is great spooned over cooked pasta. It is easy to make yet tastes like is simmered in your Grandma's kitchen all day.
Print
Pin
Rate
Save
Saved to Grow
Servings:
3
cups (approx)
Instructions
In a large sauce pot or dutch oven, over low heat, add the extra virgin olive oil. Once the oil is hot add the rosemary (left on the stem) and 6 fresh basil leaves (left whole).

Fry in the oil, making sure to not burn the herbs, about 5 minutes, until they are crisp. Remove the herbs from the oil and discard. (It is ok if some of the herb pieces break off into the oil)

Add the onions and garlic to the pot and raise the heat to medium low. Sauté, stirring occasionally, until the onions are soft and translucent but not browned, about 5 minutes. 

Add all remaining ingredients: crushed tomatoes, chopped basil, balsamic vinegar, evaporated milk, sugar, salt, pepper, dried oregano, and onion powder. Stir until it is all well combined. 

Reduce the heat to low. Put the lid on the pot and simmer for 20 minutes, stirring occasionally so the sauce does not burn on the bottom.
Serving/Storing
Serve immediately over pasta or as a sub in your favorite recipe calling for marinara. 

This Marinara Sauce can be made ahead. Completely prepare, cool for 30 minutes, and store in an airtight container in the fridge for up to a week.
Notes:
SERVING: You should have enough sauce for 1 ½ pounds of pasta. ONION: If you do not want to have onion pieces in your marinara you can cut the onion in half, peel and put the two halves in the sauce. Simmer and then at the end remove the onion and discard.
Did you try this recipe? Connect with me & let me know how it turned out by commenting below!
Jump to Comments
Serving:
1
cup
|
Calories:
350
kcal
|
Carbohydrates:
34
g
|
Protein:
8
g
|
Fat:
22
g
|
Saturated Fat:
5
g
|
Polyunsaturated Fat:
2
g
|
Monounsaturated Fat:
14
g
|
Cholesterol:
14
mg
|
Sodium:
2729
mg
|
Potassium:
1009
mg
|
Fiber:
6
g
|
Sugar:
23
g
|
Vitamin A:
798
IU
|
Vitamin C:
29
mg
|
Calcium:
242
mg
|
Iron:
4
mg
If nutrition facts are provided they are calculated as an estimate to the best of our knowledge.