In episode 039 we are making Creamy Corn Chowder for dinner! Susie shares this ULTIMATE recipe for triple flavored, delicious corn chowder. It is the perfect soup for the end of the summer or beginning of fall when sweet corn is abundant.
Transcript
Click for the full transcript.

Intro: Hey everybody. Welcome back to another episode of Let's Make Dinner, your audio library of amazing dinner recipes you can always get on the table, and that is my promise to you. I'm your host Susie Weinrich.

Susie Weinrich: The minute there is even a cold breeze blowing through my yard, I am going to be running to the kitchen to make this soup recipe for dinner. It is thick and creamy and exactly what you want at the end of the summer or at the very beginning of fall. We're talking about a fresh, creamy, and delicious corn chowder recipe.

So let me tell you what my idea of a really delicious corn chowder recipe is. It is thick and creamy, yet with still somewhat of a broth consistency. It has a really robust flavor of corn, as well as obviously fresh corn on the cob kernels of corn. It also might have some potato and some crispy bacon and sour cream on top, and definitely some chopped green onions. That is the definition of my very favorite corn chowder, and that is the definition, an explanation, of this recipe that we're going to make today.

Tips and Tricks: A couple of things that I really love about this recipe is, number one, it's made with fresh corn on the cob. You're going to cut that corn off and you're going to get so much flavor. The other thing is that you're going to have a triple corn flavor. You get the fresh corn on the cob, and then we turn our knife over and we're going to scrape those cobs and you get all of the corn pulp as well as something called corn milk, and that has a ton of fresh corn flavor. Then the third part, that's going to give you just a little bit more corn flavor as well as thicken the broth, is by adding some corn meal at the end of the recipe. This is a great trick anytime you're making a soup that either has corn in it or would pair nicely with a corn flavor. If it's a little too brothy, you can add a little corn meal and maybe some half-and-half at the end of the soup and it will thicken it up perfectly.

I do the same trick with potato flakes. So obviously we're not making mashed potatoes with potato flakes here in the, Let's Make Dinner kitchen but potato flakes are amazing for thickening soup. So if you're like, eh, I don't really want to use cornmeal, you could absolutely use potato flakes here too.

Corn Chowder Recipe: So let's get straight into making this recipe. First of all, you're going to need about five to six ears of fresh corn on the cob. You can absolutely make it with frozen corn. There are just a few changes that you need to do, and if you look in the show notes of this recipe, you'll find a link to the full printable recipe, and it has all of the notes you need to use frozen corn instead of fresh corn.

But for the purpose of this podcast, we're going to make it with fresh corn on the cob. So you want to start by placing your corn on the cob, either on a rimmed baking sheet, or if you have a bundt pan, you can use that middle tube, rest your corn on the cob on that, and then cut right down on the cob and the corn will all fall into the bundt pan. That's a great kitchen tip anytime you have to remove corn from the cob. So you'll want to make sure that you remove all that corn, then you're going to turn your knife over to the blunt side and scrape it along those cobs. What you're going to be removing is the pulp of the corn that's kind of stuck further down in the cob, as well as this milky juice that will come out of the corn cob. You want all of that. That is mega corn flavor.

So once you get all of that done, set that aside. Then you're going to take a huge pot and put it over medium heat on the stovetop. You're going to crisp up six pieces of diced bacon. This is a great place to use your kitchen shears actually and cut your bacon just into little half-inch pieces. Pop it in that pan, get it nice and crispy, and then use a slotted spoon and remove the bacon from that pan. You'll want to reserve about two to three tablespoons of that bacon grease because we're going to use it to saute the onions and the garlic next. So then you're going to take one yellow or white onion that has been chopped, and three garlic cloves that have been chopped, and saute those over about medium heat in that two to three tablespoons of bacon grease. Saute it for about five minutes. Then you're going to add in a four-ounce can of diced green chilies and two teaspoons of chicken base. If you've never used chicken base, it's like the adult version of chicken bouillon. It's super flavorful. It actually adds chicken flavor to your recipe. I like to use a brand called Better Than Bouillon, which it is better than Bouillon. It comes in a jar and it's kind of a paste. So add two teaspoons of that chicken base and stir it around the pot. Then you're going to pour in 32 ounces of chicken broth, all of that corn that you scraped off the cob and the pulp and the milk. Then add in two cups of Yukon gold potatoes that are peeled and cut into about a half-inch dice, half a teaspoon of Lawry season salt, a half a teaspoon of black pepper. Bring that up to a boil over about medium-high heat. Then as soon as it starts to boil, you're going to turn the heat to low and let it simmer for about 20 minutes.

Once that's done, you'll remove two and a half cups of the soup and blend it in a food processor or a blender. You want to be careful when you're blending up hot ingredients that the lid of the blender or the food processor doesn't blow off because of the buildup of pressure. Now add that puree back to the soup and give it a good stir. You'll see that your soup is starting to come together and starting to thicken up.

Finally, you want to whisk in one cup of half and half, half a cup of sour cream, and three tablespoons of cornmeal. Then you'll just want to let it cook over low heat for about another 10 minutes so that cornmeal can cook into the soup and let it thicken up a little bit. In the end, you just want to taste for additional seasoning and salt. Let it cool for about five minutes and then you can go ahead and serve.

When you serve this corn chowder, I recommend that you put some sour cream, that crispy bacon that we crisped up at the very beginning of the recipe, some chopped green onions, and maybe some hot sauce or Tabasco, and people can load up their soup however they want.

Now, a couple of troubleshooting tips for this recipe. If you feel like your soup is a little bit too thin, you can absolutely add another tablespoon or two of the cornmeal and let it simmer for another five to 10 minutes. Or like I said at the beginning of the recipe, you can add in just a couple tablespoons of potato flakes and let those cook in, and that will definitely thicken it up really nicely. Now, if your soup is too thick, you will want to pour in a little extra half-and-half or broth and let it warm through until it's your desired consistency.

As far as side dishes go, when we have soup here, we like to keep the side dishes super, super simple. So if you want to stick with that corn flavor, you could add some corn muffins, some sweet cornbread, or buttermilk cornbread on the side. If you want to add a veggie, you could absolutely do just like a green side salad. I have a great recipe for a Basil Vinaigrette that I'll link in the show notes for you that would be perfect with this dish. Or we'll just do some crusty warm bread like Ciabatta or maybe some kettle-cooked chips, just like they serve at Panera, and have that on the side.

So that does it for today's episode of Let's Make Dinner. As always, I will link all of the recipes that I talked about in this episode right in the show notes for you so you can find them when you're ready to make dinner.

If you're loving these episodes of Let's Make Dinner, I would love to have you either rate and review or follow and subscribe to our show.

Outro: Until next time, I hope this episode of Let's Make Dinner, makes your dinner time a little easier.
Tips Shared
When you remove the corn from the cob you can use a Bundt pan to make the processes easier and cleaner. See photo below: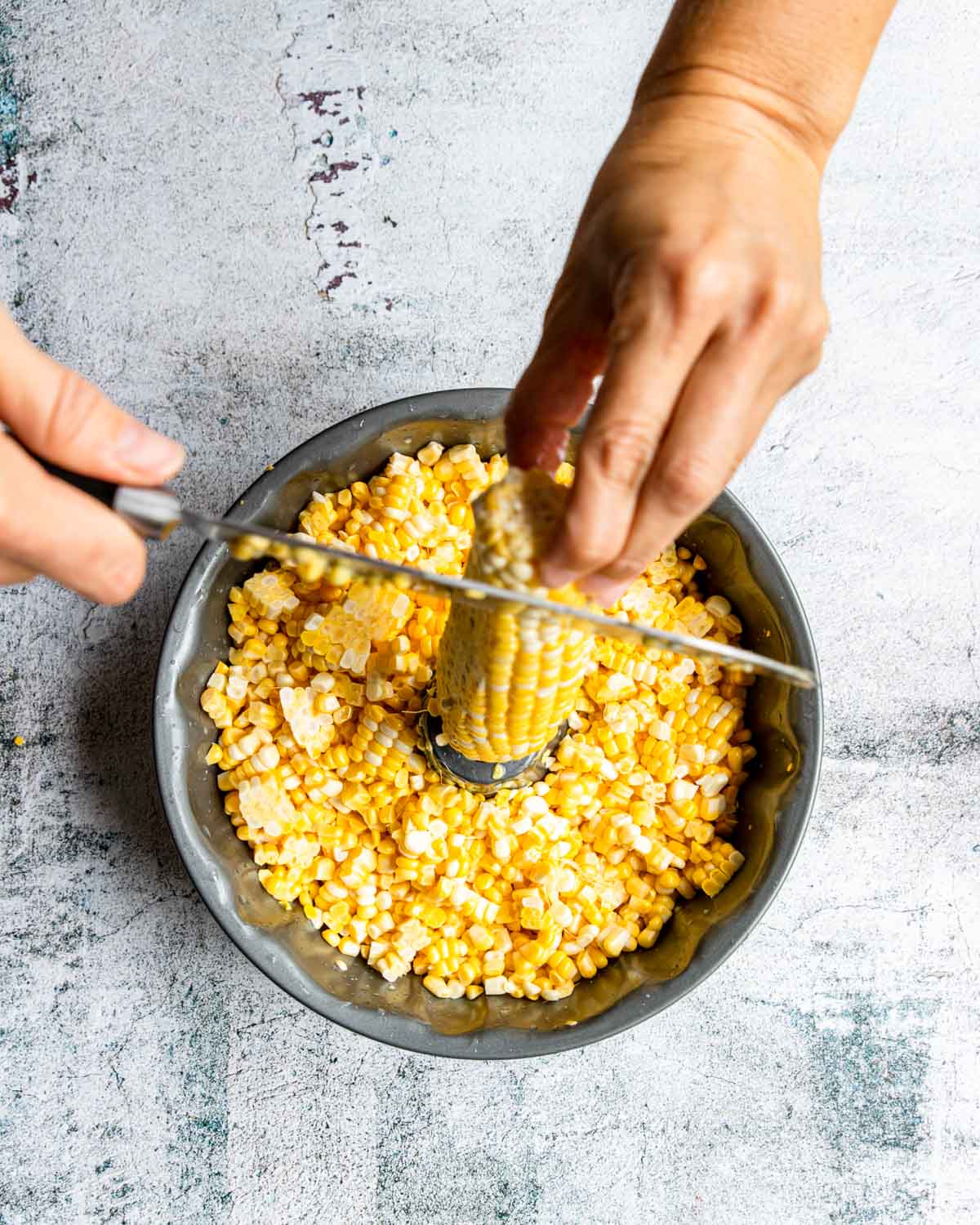 Also, turn your knife over to the blunt side and scrape the cobs after removing the corn. This will scrape out the pulp and milk from the cob, which has a TON of flavor!
Recipes Mentioned
Follow Along
Follow or Subscribe to Let's Make Dinner Podcast on your favorite podcast platform so you can find all of our new episodes right in your podcast feed!
Subscribe to the Mom's Dinner & Let's Make Dinner Newsletter to never miss and episode or new recipe. ONE newsletter sent out every week on Sunday morning.