Barbecue Chicken in Parchment with Sweet Potatoes and Peppers is a fast and easy dinner full of nutrition and flavor! It is ready in just over 30 minutes with very little prep.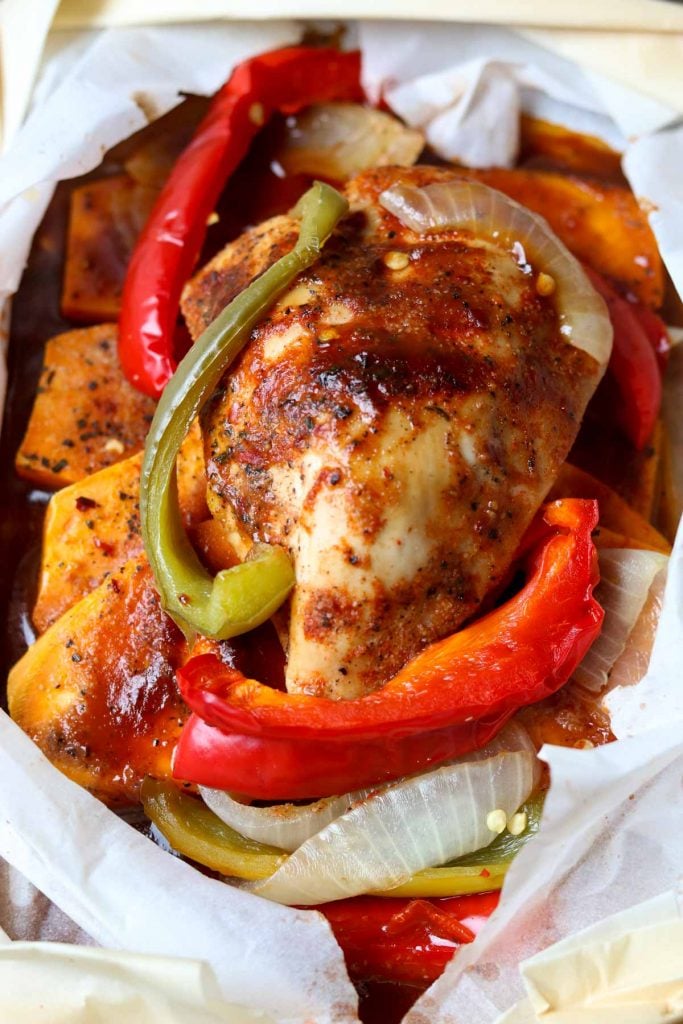 When you cook chicken in a parchment paper packet it comes out tender and juicy. The sweet potatoes cook to perfection, the onions and peppers soften just the right amount, and the barbecue sauce melts over the chicken into a delicious vinegary, sweet & spicy sauce.
RELATED: BBQ Grilled Pork Tenderloin
Step by Step
You will need 2 sheet pans to make 4 packets (4 chicken breasts).
Cut 4 pieces of parchment, about 15 x 20 each. Fold them in half so it is now 15 x 10.
Lay your folded pieces of parchment paper on the sheet pans. Overlap 4 to 5 slices of sweet potato on each paper. Sprinkle with olive oil, salt and pepper.
Top the potatoes with the fresh chicken breast. Sprinkle the chicken generously with salt, pepper, smoked paprika, garlic powder, onion powder, and dried basil (optional red pepper flakes).
Measure out about ¼ cup of your favorite BBQ sauce for each packet. Pour that over the chicken breast.
Now, lay the sliced onions and peppers on top.
Time to close up the packet!
Fold the top half of the parchment over the sweet potato & chicken stack. Then, starting in one corner make a small fold, then continue to make small folds all the way around the packet until you have made it all the way around and it is enclosed. See the step by step photos below:
Tuck the last fold into the one above it to secure it closed.
Pop the sheet pans in the oven for 25 minutes.
Be careful when you cut the packets open to serve. The steam that escapes is HOT!
Barbecue Chicken in Parchment for Dinner
An all-in-one dinner recipe for the win!! There is nothing better than a delicious dinner that you can wrap up in one package, cook on one pan, and have ready in just over 30 minutes!
Since this dinner contains your protein, starch and veggie I usually do not make any additional side dishes. However, when summer corn is ripe & sweet I will make a few ears to have with this dinner.
A big green crisp lettuce salad would be a great side dish too. Or if you are in the mood for a little comfort food, the Skillet Mac & Cheese would be amazing!
Keeping Dinner Kid Friendly
Now, when we have this for dinner I have two picky kids that are not interested in eating sweet potatoes or onions. But, they will eat plain, cut up chicken dipped in ketchup or mustard… yuck!
So, for the kids, I simply cook a plain chicken breast alongside the Barbecue Chicken in Parchment. This way everyone is happy!
Other Dinner Recipes to Try
If you liked this recipe, here are some other chicken recipes to check out from Mom's Dinner:
---
Did you make this recipe?!
If you make this recipe I would love to hear your review. Pop down to the comment section and connect with me.
Then sign up for our Weekly Newsletter so you never miss a new recipe!
BBQ Chicken in Parchment with Sweet Potatoes & Peppers
A dinner that can be prepped and cooked in just over 30 minutes! The chicken comes out juicy and tender and the peppers and sweet potatoes are perfectly cooked. The barbecue sauce melts over the packet and becomes a vinegary sweet sauce.
Print
Pin
Rate
Save
Saved to Grow
Ingredients
4

fresh boneless, skinless chicken breasts

3

sweet potatoes, peeled

cut lengthwise into ¼ inch slices

1

medium yellow or red onion

cut into ½ inch wide strips

2

bell peppers,

any color, cut into ½ inch wide strips

1

cup

BBQ Sauce, your favorite brand/flavor

divided

4

15×20 sheets of parchment paper (approx size)
Seasonings: Olive Oil, Salt, Pepper, Garlic Powder, Onion Powder, Smoked Paprika, Dried Basil (optional – Red Pepper Flakes)
Instructions
Preheat the oven to 400 degrees.

Cut 4 large pieces of parchment 15×20 each. Fold in half so they are 15×10 each.
One Packet Assembly:
Lay 4-5 sweet potato slices, slightly overlapping on a parchment paper. Drizzle with olive oil and sprinkle with salt and pepper.

Top the sweet potatoes with a chicken breast. Generously season each chicken breast with garlic powder, onion powder, dried basil, smoked paprika, salt, and pepper (optional- red pepper flakes). 

4 fresh boneless, skinless chicken breasts

Top each chicken breast with about ¼ cup of BBQ Sauce.

1 cup BBQ Sauce, your favorite brand/flavor

Finish the packet by dividing the onions and pepper evenly between the packets, laying them directly on top of the bbq sauce.

1 medium yellow or red onion,

2 bell peppers,

Close the parchment packet up by folding in the edges, one small fold at a time all the way around until it is completely enclosed. See the photo for the finished, enclosed packet.

Place 2 parchment packets per sheet pan and place in the preheated oven for 25-30 minutes. 

Make sure the chicken has reached 165℉ internal temp.
Serving
To serve cut the packet open, careful of the hot steam, and place the packet on plate with a fork and knife.


If you do not like the idea of eating out of a packet you can slide everything out of the packet onto a plate. Just make sure to get all the delicious sauce!
Did you try this recipe? Connect with me & let me know how it turned out by commenting below!
Jump to Comments
If nutrition facts are provided they are calculated as an estimate to the best of our knowledge.