Planning dinner for your family can be hard! What should we eat this week? What do I need to buy at the store? Let me answer both of those questions with my free weekly meal plan including a printable grocery list (and bonus leftover re-do ideas)!
FAMILY MEAL PLAN
Your family needs to eat, and the job of feeding them lands squarely on your shoulders.
The key to making this job easy is MEAL PLANNING!
Plan all your meals for the week, write out your grocery list, and then head to the store to buy the groceries. Sounds easy enough, but I think a lot of us just end up at the grocery store buying the same things week after week, and then we get home and say "I have nothing to cook for dinner!"
Prevent this from happening now! Sign up for the Mom's Dinner Newsletter and have my Weekly Menu Plan and Printable Grocery List delivered to your email every Friday morning. Cross off the groceries you already have in your kitchen and head to the store completely prepared!
WEEKLY MEAL PLAN #8
I provide 4 delicious and easy dinners, with recipes, that you can make for your family this week. You simply add three more meals and your 7 day family meal plan is done. Here are three dinner categories I recommend adding to your plan :
One night out.
A leftover night (leftover re-do ideas provided below)
Kids Choice night (think pizza, chicken fingers, tacos, spaghetti, or mac n' cheese)
I have other meal plans too, if this one isn't your jam!
Chicken Pot Roast
Doesn't the sound of Pot Roast remind you of big family dinners when you were little? It does for me!
This week change up the pot roast game and make this Chicken Pot Roast for dinner on Sunday. Chicken thighs are slowly braised with plenty of veggies in a chicken gravy. Then the best part is, it all gets topped with crispy french fried onions.
Serve this with warm ciabatta bread and a green salad.
One Skillet Dirty Rice & Beans
It's FAT TUESDAY this week! The perfect day to infuse a little cajun into your dinner plans.
Even though it is a fun holiday- it is still a Tuesday, so I want to be realistic about the time you will spend in the kitchen. Keep it simple with this recipe for One Skillet Dirty Beans and Rice. You could even throw a little shrimp in the pot for the last 6-8 minutes, if that's your thang.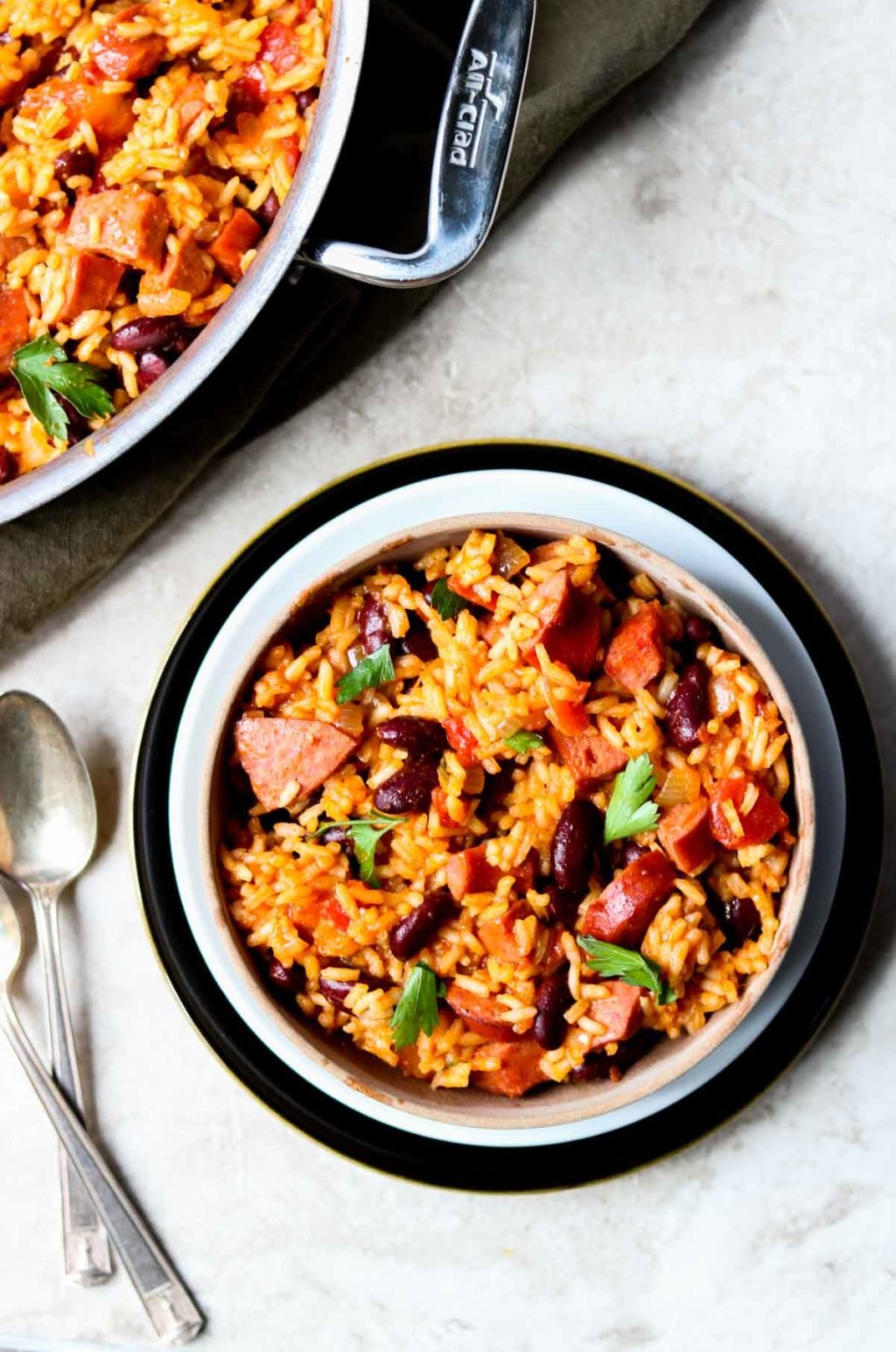 30 Minute Baked Coconut Shrimp
So since Tuesday is "Fat Tuesday" that means Lent starts on Wednesday. Which means Easter and Spring are just around the corner, Thank God!!!!
We do not follow fish fridays at our house, but if you do, or if you just love shrimp, this 30 Minute Baked Coconut Shrimp from Talking Meals is perfect for dinner on Friday!
Pair this dinner entree with store bought rice pilaf and oven roasted asparagus(if asparagus is too expensive, sub broccoli and cook the same way, roasted in the oven).
Easy Breakfast for Dinner
Isn't breakfast for dinner the best. It can easily be pulled together and you usually have enough ingredients to make it happen, even if you haven't been to the store. All you really need are some eggs, maybe some fruit, and bread!
Scrambled Eggs, Fresh Fruit, Waffles (the frozen kind!), and Canadian Bacon (or real bacon) will be on the menu for this night. Nothing fancy- just real, and easy.
Leftover Re-Do Ideas
Add leftover shrimp to pasta with pesto sauce or you could use the same lemon butter garlic sauce that is on my lemon penne pasta.
Leftover Chicken Pot Roast is amazing as is… or you could add a little more chicken broth and pour it over garlic mashed potatoes.
If you have waffles leftover from breakfast-for-dinner, add some baked chicken tenders for a chicken & waffles dinner.
Dirty Rice and Beans would be amazing wrapped in a warm tortilla with cheese melted over top. You could even make this Smoked Paprika Vinaigrette for an extra drizzle of flavor!
Free Printable Grocery List
Head to the store with confidence that you will end up with groceries to actually make dinner for your family!
Simply cross of the items that you already have in your kitchen, and then add the items you need for the rest of the week (lunches, breakfasts, pantry staples, etc…).
Click on the image below to print the grocery list