Planning dinner for your family for an entire week can be hard! What should we eat for dinner? What do I need to buy at the store? Let me answer both of those questions with my free weekly meal plan including a printable grocery list (and bonus leftover re-do ideas)!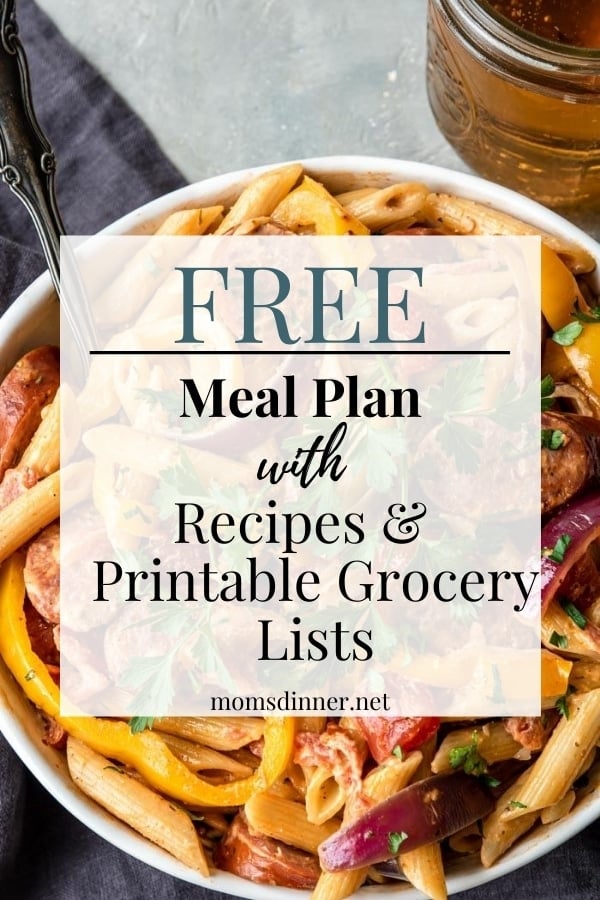 Family Meal Plan
Your family needs to eat, and the job of feeding them lands squarely on your shoulders.
The key to making this job easy is MEAL PLANNING!
Plan all your meals for the week, write out your grocery list, and then head to the store to buy the groceries. Sounds easy enough, but I think a lot of us just end up at the grocery store buying the same things week after week, and then we get home and say "I have nothing to cook for dinner!"
Prevent this from happening now! Sign up for the Mom's Dinner Newsletter and have my Weekly Menu Plan and Printable Grocery List delivered to your email every Friday morning. Cross off the groceries you already have in your kitchen and head to the store completely prepared!
WEEKLY MEAL PLAN #17
This week I provide 4 delicious and easy dinners, with recipes, that you can make for your family this week. You simply add 3 more meals and your 7 day family meal plan is done. Here are three dinner categories I recommend adding to your plan :
Four nights of dinner from the meal plan.
A leftover night (leftover re-do ideas provided below)
Kids Choice night (think pizza, chicken fingers, tacos, spaghetti, or mac n' cheese)
Take Out Night
I have other meal plans too, if this one isn't your jam!
White Chicken Enchilada Skillet
This White Chicken Enchilada Skillet recipe is not only delicious because it is Mexican Food (YUM)! But it is also an easy to make one pan recipe. Pair this with some chips and guacamole for an awesome dinner. It would also go great with Cilantro Pineapple and a Tequila Cocktail!
Breakfast For Dinner
If you love breakfast for dinner then these Sausage Egg Cups will be a winner at your house. Serve them with some fresh fruit and french toast sticks. Your kids will request it again and again!
Zucchini Pizza Boats
Talk about a delicious way to get your veggies in! These Zucchini Pizza Boats are full of all the veggies, plus some sausage, sauce and gooey cheese. If your kids are opposed to the zucchini boat portion you can always use english muffins or bagels to make some sausage or cheese mini pizzas too.
Creamy Cajun Pasta
Spice up dinner just a little with this Creamy Cajun Pasta recipe. Serve it with a side salad and cornbread muffins.
Leftover Re-Do Ideas
Chop up those leftover zucchini pizza boats and serve them over pasta! SO GOOD!
Chop up the sausage egg cups, pop them into a tortilla and top them with sauteed peppers, onions, salsa, and sour cream.
Turn the leftover enchilada skillet into a soup! Stir it into a little chicken broth until the tortillas melt into the liquid. Top with a little sour cream.
Finely chop up any leftover zucchini pizza boats and roll them into a lasagna noodle with some ricotta- like these lasagna roll ups.
Printable Grocery List
Head to the store with confidence that you will end up with groceries to actually make dinner for your family!
Simply cross of the items that you already have in your kitchen, and then add the items you need for the rest of the week (lunches, breakfasts, pantry staples, etc…).
Click on the image below to print the grocery list: