A RumChata Espresso Martini is a great cocktail for any coffee lover. It is a simple martini recipe with just 2 ingredients: RumChata and a double shot of Espresso. The two are shaken together and served in a sugar rimmed martini glass. It is the perfect dessert cocktail or happy hour drink!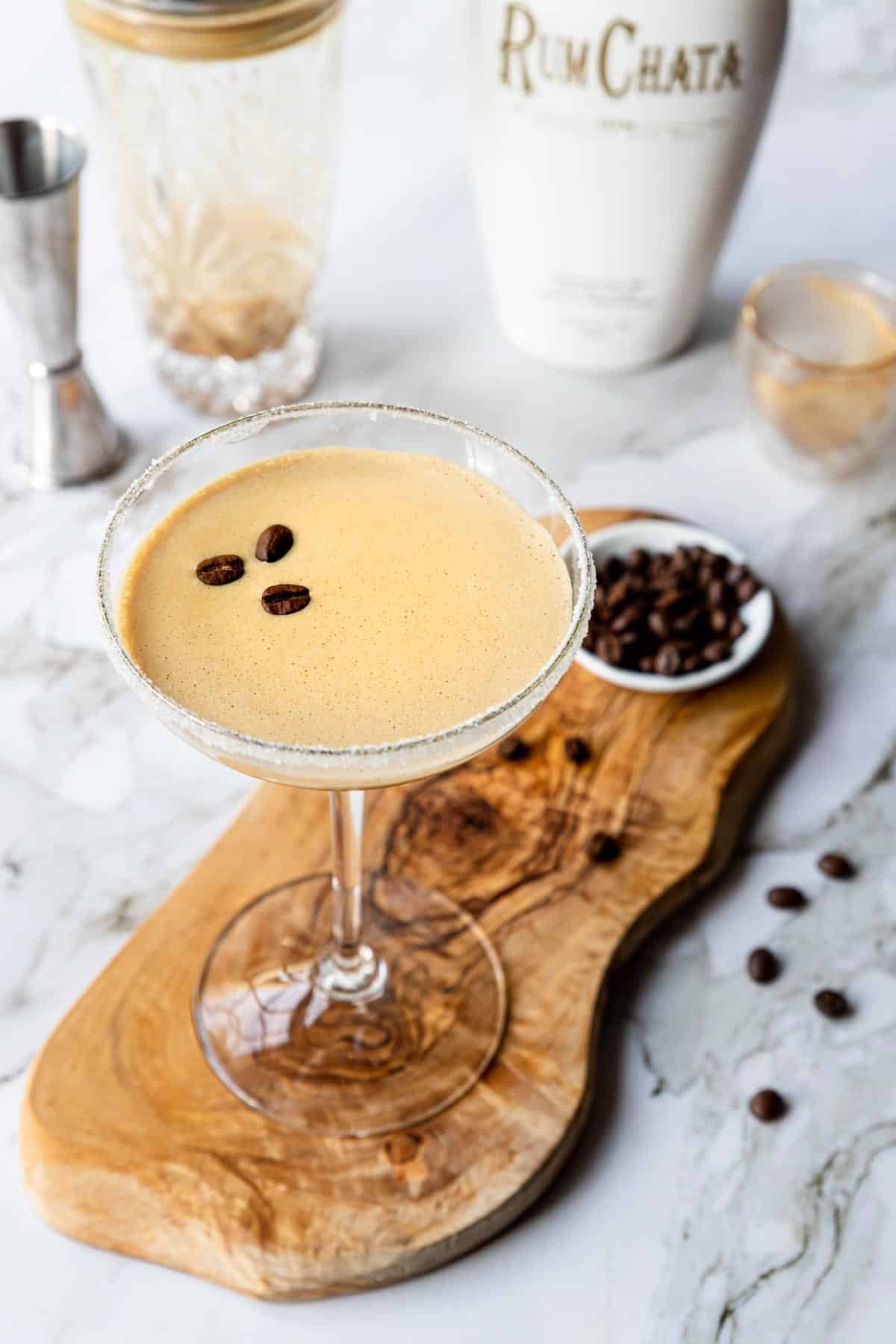 What is RumChata?
RumChata is a creamy liqueur of Caribbean rum that is flavored with cinnamon and vanilla. It is made to mimic the flavors of Horchata, a traditional Mexican, Central America and Spanish drink.
Horchata is a milky drink made by soaking rice grains or nuts in water and then infusing it with flavors of cinnamon and vanilla. Then it is sweetened with sugar and served over ice.
The bottle of RumChata describes what it is exactly: Horchata con Ron (Horchata with Rum), Caribbean Rum with Real Dairy Cream, Natural and Artificial Flavors.
Ingredients and Supplies
You just need two ingredients plus some optional garnishes to make this RumChata Espresso Martini:
Plus sugar for the rim of the glass and maybe some coffee beans for garnish.
A good cocktail shaker is a bar essential. If you don't have one you can always use a mason jar with a lid and a mesh strainer.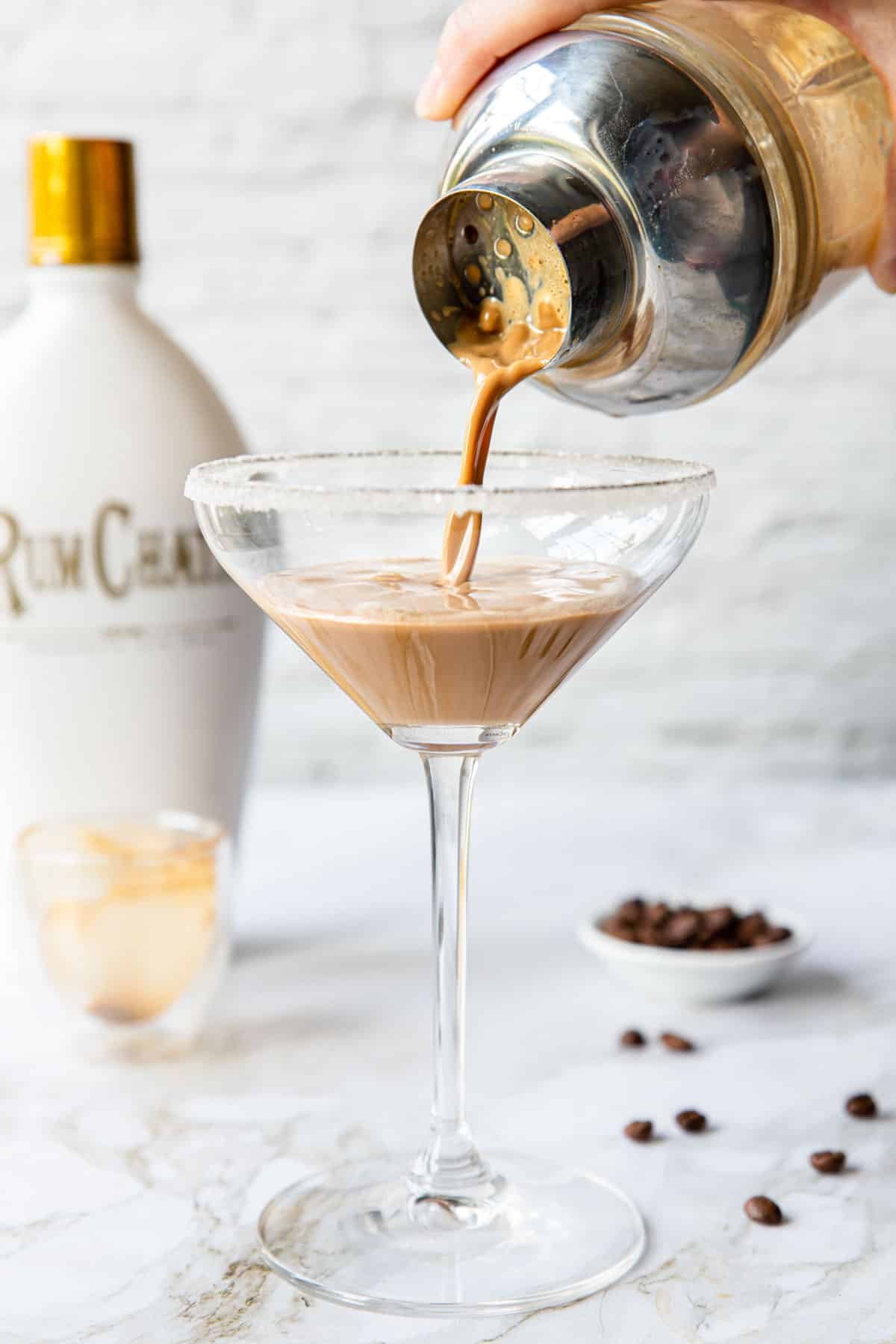 BUT if you want to buy a really beautiful shaker like the one pictured below you can grab it on Amazon for under $30. Etched Glass Cocktail Shaker
Another great bar essential is a jigger, which is a bartender term for ounce measurer. We love this double sided jigger that measures 1 oz and 2 oz, plus all the in-betweens: .75, 1.25, & 1.5oz.
Espresso
You will need two ounces of brewed espresso, which is also called a double shot. Be careful if you are getting a double shot from a local coffee shop or Starbucks. Sometimes they will pull a Ristretto shot which is a smaller stronger "double shot".
If you go to a coffee shop to get your espresso for this RumChata Martini, make sure you ask for a DOUBLE ESPRESSO SHOT, and tell them that you do not want a Ristretto shot.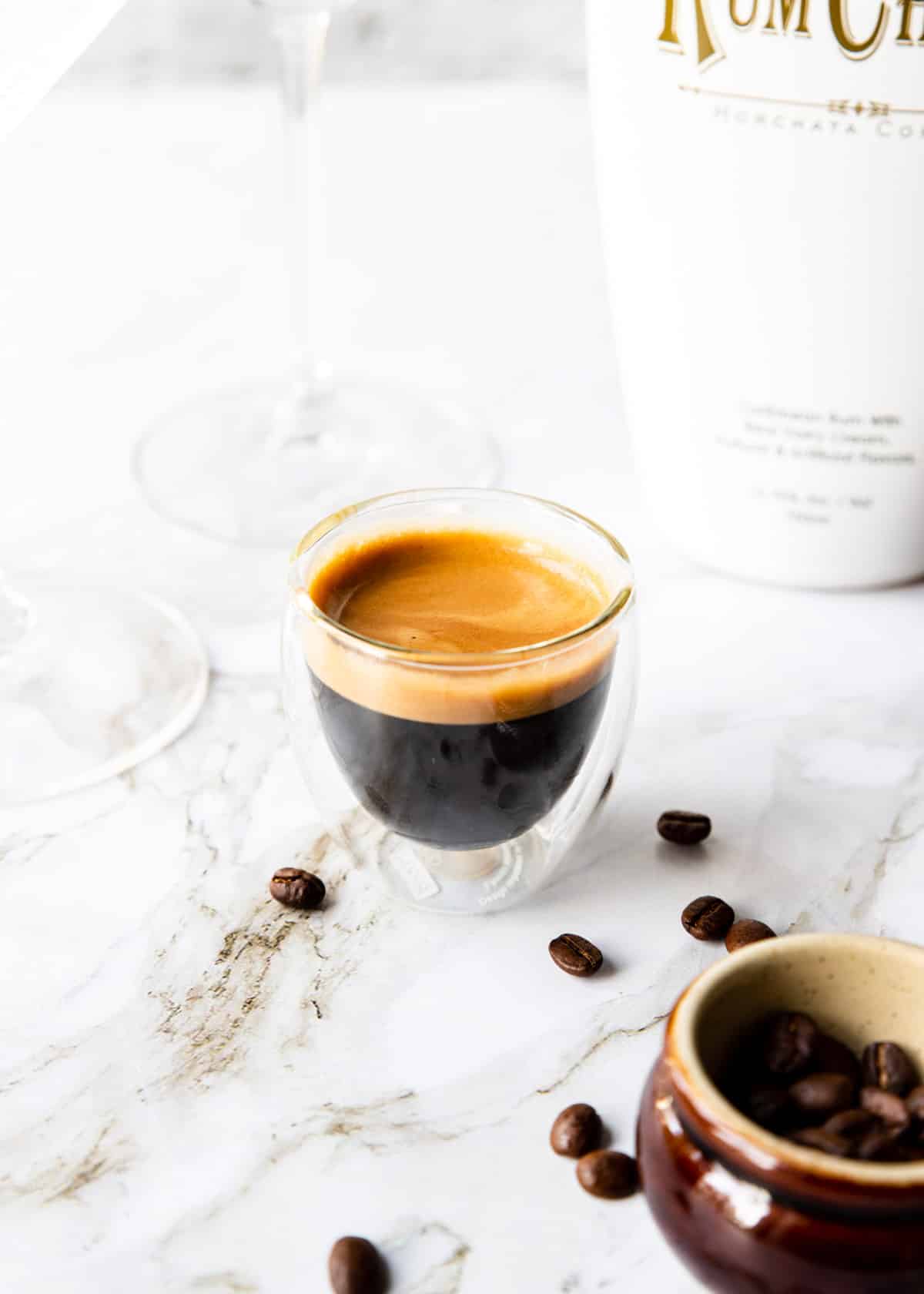 Making Espresso at Home
A really cost effective way to make espresso at home is using a Stovetop Bialetti Moka, here is a great video showing how to use the Bialetti.
You can also use an at home Espresso Machine (I use mine every single day), or a Nespresso Machine!
If you make your double shot at home you will want to make sure it is cooled before using or it will melt the ice and water down your martini.
Dry Shake & Ice Shake
When you make your RumChata martini you will do something called a dry shake and then follow with an ice Shake.
A Dry Shake is when you shake the cocktail ingredients first without ice. Creating a really rich foam for your cocktail. This is a method also used in cocktails with egg whites, like this Tequila Sour.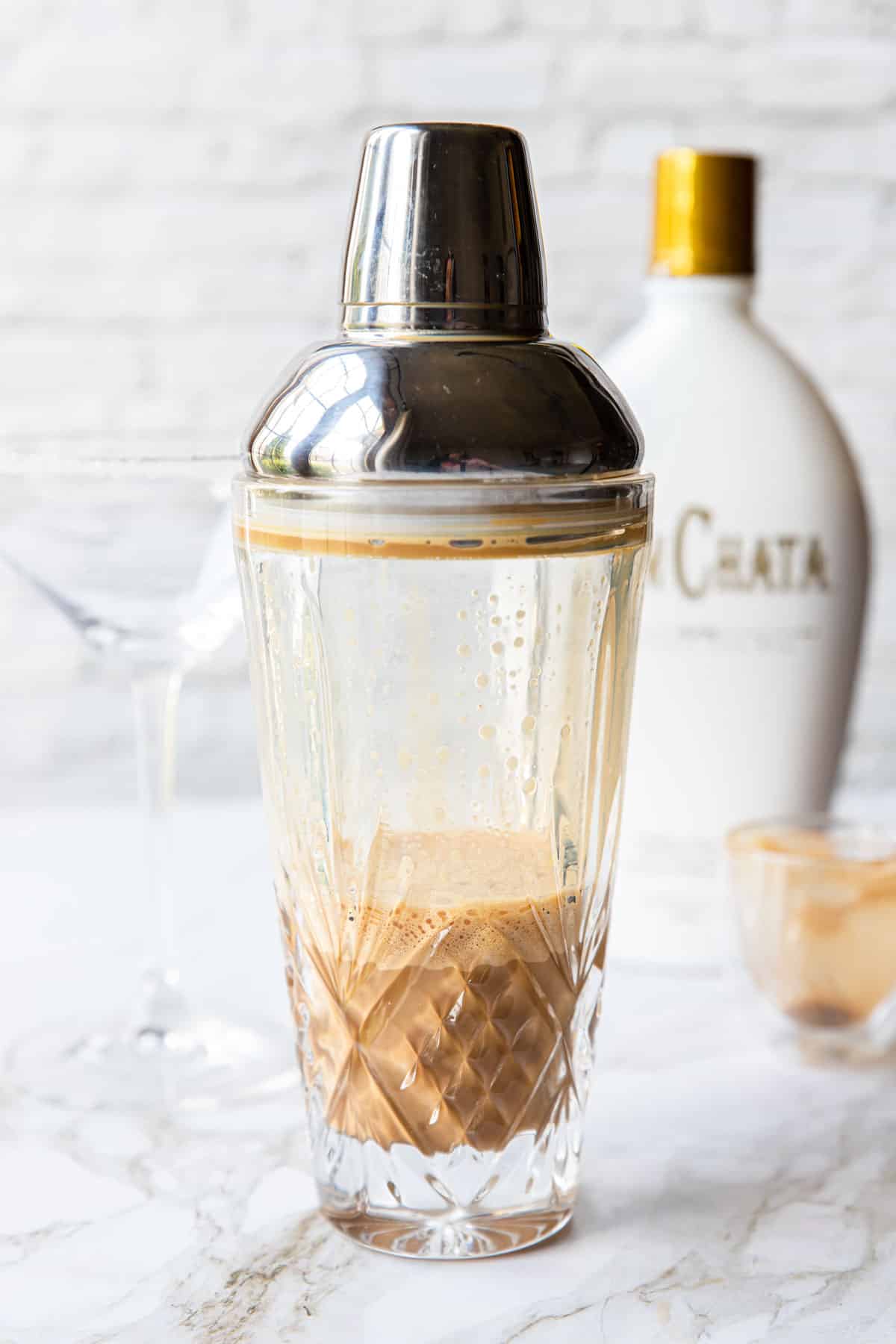 The you will follow with an Ice Shake, obviously by adding the ice. This cools the cocktail down for serving.
More Martini Style Cocktails
---
Did you make this recipe?!
If you make this recipe I would love to hear your review. Pop down to the comment section and connect with me.
Then sign up for our Weekly Newsletter so you never miss a new recipe!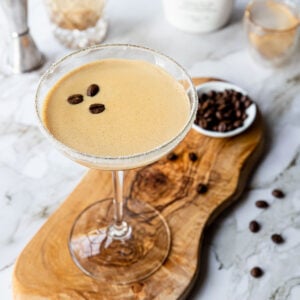 RumChata Espresso Martini Recipe
A simple 2 ingredient martini made with RumChata and Espresso. It is creamy and a little sweet with a kick of caffeine. Perfect for Espresso Martini Lovers!
Print
Pin
Rate
Save
Saved to Grow
Equipment
Martini Glass

or similar stemmed glass like a Coupe
Ingredients
2

oz

RumChata

2

oz

Brewed Espresso- cooled

(double shot Espresso, not Ristretto)
Instructions
Rim Martini Glass – Optional
On a flat plate pour a little RumChata, on a second flat plate pour a little white sugar.

Dip your martini glass in the RumChata and then in the sugar. See photo, the sugar will stick to the rim. Set aside.
RumChata Espresso Martini
Dry Shake (no ice)– In a cocktial shaker pour the cooled espresso and RumChata. Shake vigorously for 20 seconds. A dry shake creates a luscious foam on top of your cocktail.

2 oz RumChata,

2 oz Brewed Espresso- cooled

Ice Shake– Add a few cubes of ice and continue to shake for another 15 seconds.

Strain into your prepared martini glass.

Optionally garnish the RumChata Espresso Martini with coffee beans.
Did you try this recipe? Connect with me & let me know how it turned out by commenting below!
Jump to Comments
If nutrition facts are provided they are calculated as an estimate to the best of our knowledge.