Butter Rum Sauce is a buttery caramel-like-sauce that has a lovely flavor from the dark rum. Don't worry it doesn't taste like a cocktail as the liquor will boil out during cooking. It is made with 5 simple ingredients – butter, brown sugar, sugar, cream, and dark rum.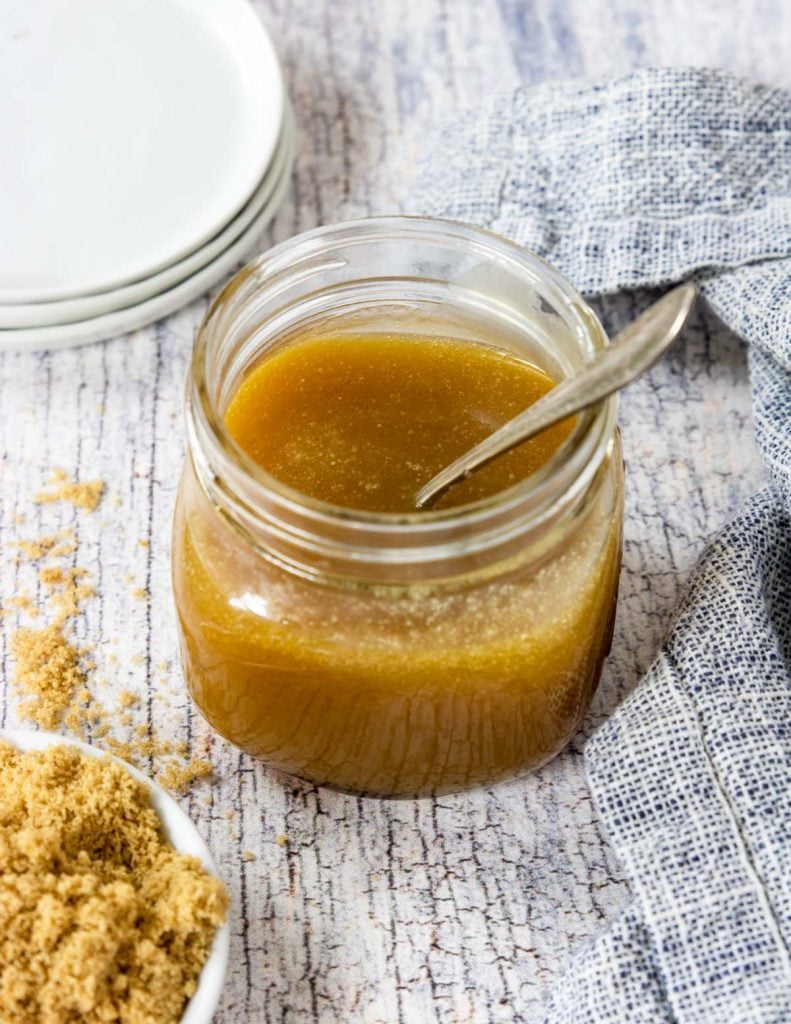 It is perfect drizzled over apple spice cake, apple crostata, brownies, apple nachos, bread pudding, pancakes or just ice cream! And if I'm being honest I have been spotted eating it by the spoonful (it's REALLY good!).
Ingredients & Supplies
You don't need much to make this butter rum sauce recipe, just 5 ingredients:
saucepan
1 stick of butter (preferably salted)
brown sugar
granulated sugar
heavy whipping cream
dark rum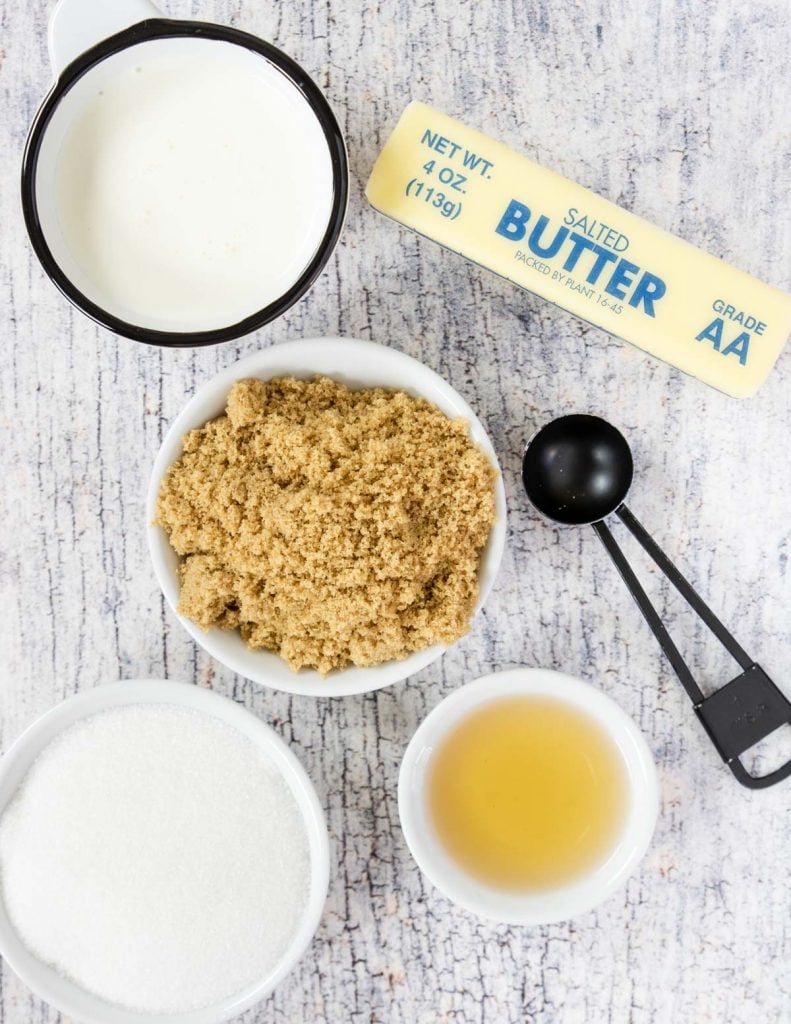 Dark Rum
When you buy dark rum (or look through your liquor cabinet), you want to make sure you get "dark rum". It will literally be darker in color, like a caramel color. Definitely do not use the clear rum, it will not have the right flavors for this recipe. Dark rum is aged and the molasses flavors are enhanced.
If dark rum is not something you would normally keep in the house or would use for cocktails, you can absolutely buy an airplane sized bottle of dark rum! They are usually kept up by the registers at the liquor store.
Rum Extract
If you prefer to not use alcohol you can absolutely sub 1 teaspoon rum extract for the dark rum.
How to Make Butter Rum Sauce
There is not much to making this Butter Rum Sauce. Just add all the ingredients to a saucepan over medium heat. Let it all melt together and then let it simmer for about 2-3 minutes.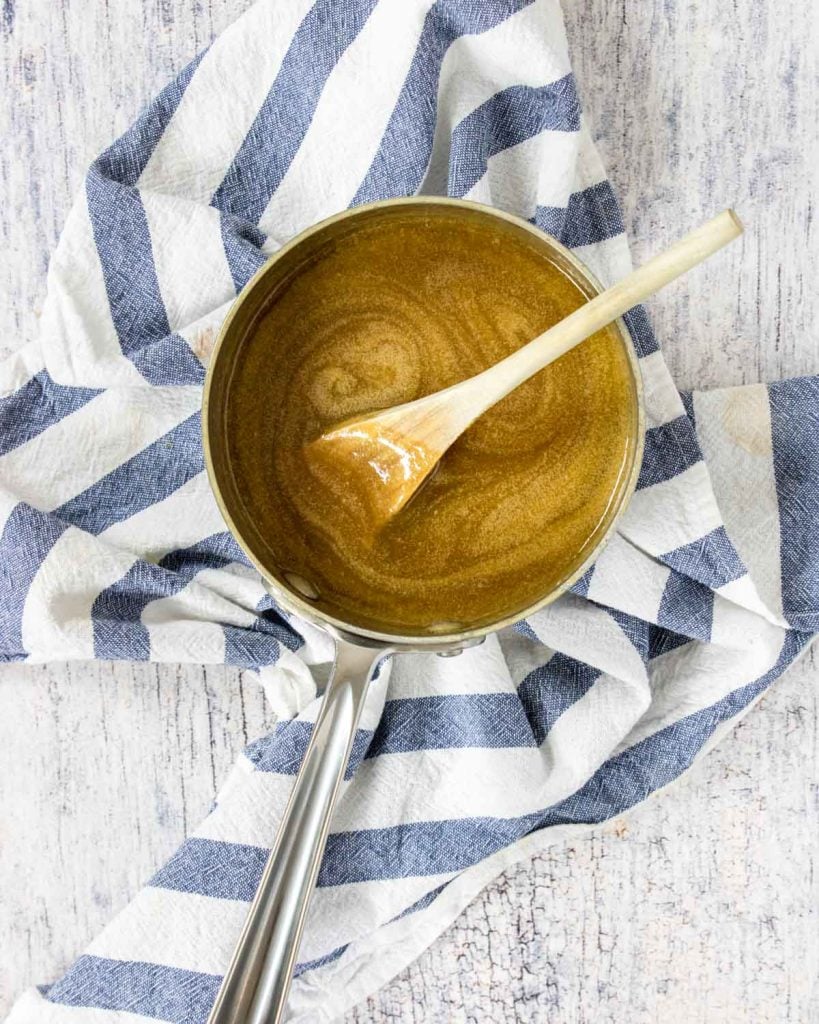 Remove it from the heat and let it cool. It will thicken more as it cools.
If you like a stronger rum/alcohol flavor you can wait and add the rum in the last 30 second of simmering the sauce. But, be careful that it doesn't boil up on you!
Storing
Store your cooled butter rum sauce in the fridge in an airtight container for up to 2 weeks. I like to store mine in a mason jar with a lid.
Reheating
To reheat the sauce just portion out how much you want to use into a saucepan and place over low heat for about 5 minutes (less if you only have 1 or two portions), stirring occasionally, until it is the right consistency for drizzling!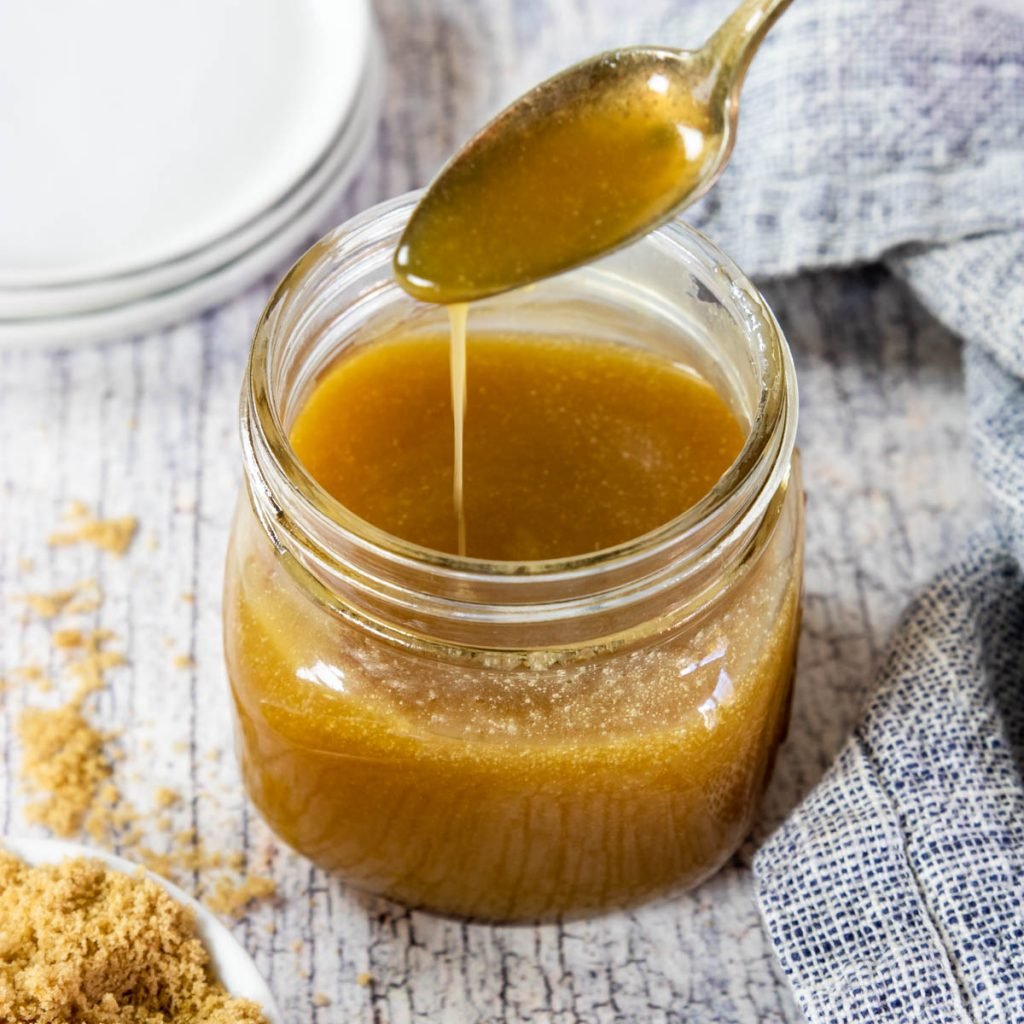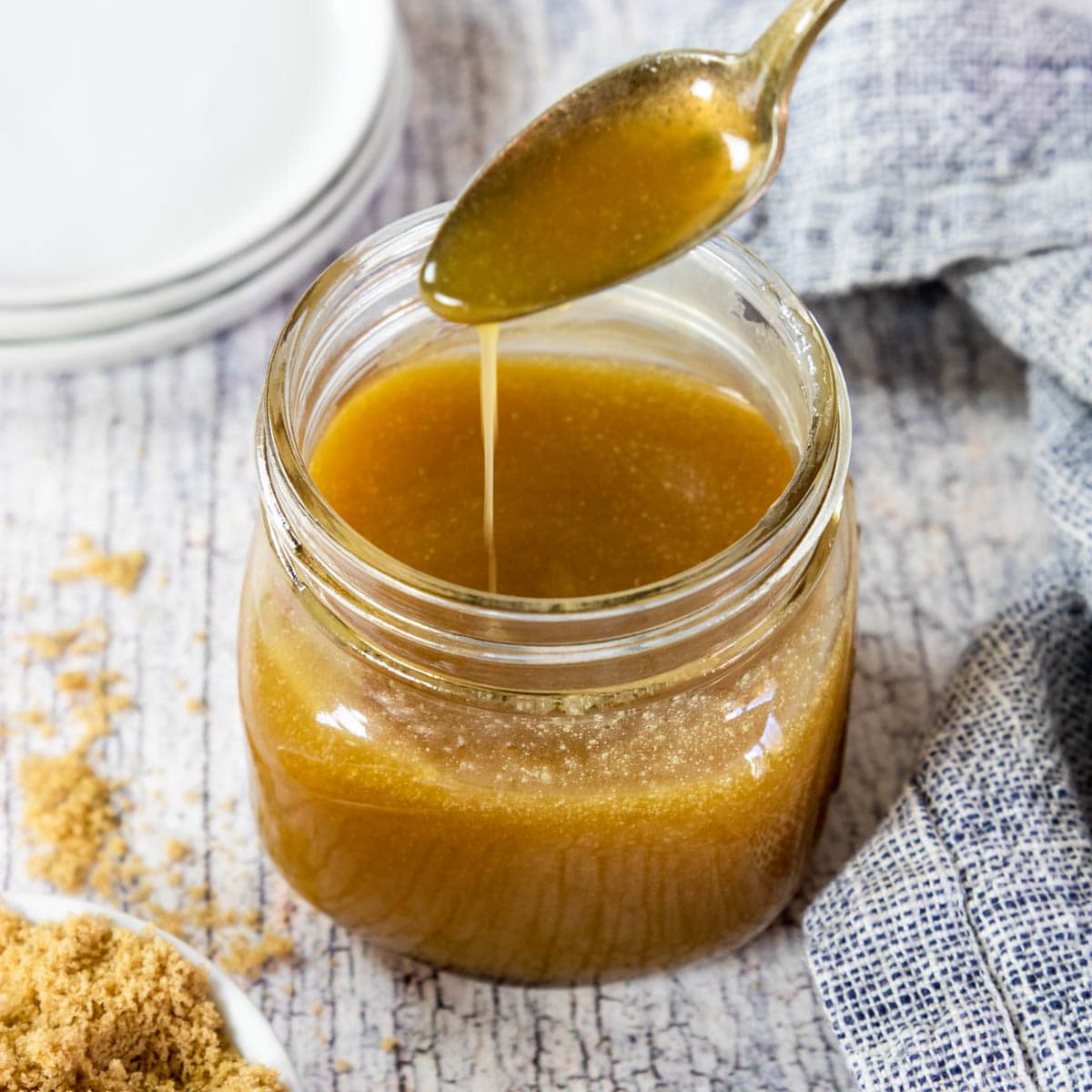 Other Recipes Using Dark Rum
If you have purchased a bottle of dark rum and now are thinking what am I going to do with this… her are a few recipes you can make to use it up!
Cocktails:
or just a really good Rum & Coke (Cuba Libre)
Food:
Butter Rum Sauce
A delicious recipe for Butter Rum Sauce, made with just 5 ingredients. Perfect for drizzling over pies, bread puddings, cakes, or ice cream!
Print
Pin
Rate
Save
Saved to Grow
Instructions
Combine all of the ingredients in a saucepan and bring to a simmer over medium heat. Simmer for 2-3 minutes until slightly thickened and coats a spoon.

TIP: for a stronger rum/liquor flavor wait and add the rum in the last 30 seconds of simmering. But be careful if it boils up.

Remove from the heat. Let it cool for about 30 minutes, it will thicken more as it cools.
Storing
Store any unused (and cooled) butter rum sauce in an airtight container in the fridge for up to 2 weeks. A mason jar works nicely!
Reheating
To reheat the butter rum sauce right out of the fridge place it in a saucepan over low heat for about 5 minutes (less if you are only warming 1 or 2 portions), stirring occasionally. Once it has darkened in color and is the right consistency pull it from the heat.
Did you try this recipe? Connect with me & let me know how it turned out by commenting below!
Jump to Comments
Serving:
2
tablespoon
|
Calories:
172
kcal
|
Carbohydrates:
18
g
|
Protein:
1
g
|
Fat:
11
g
|
Saturated Fat:
7
g
|
Cholesterol:
34
mg
|
Sodium:
74
mg
|
Potassium:
20
mg
|
Sugar:
17
g
|
Vitamin A:
382
IU
|
Calcium:
16
mg
|
Iron:
1
mg
If nutrition facts are provided they are calculated as an estimate to the best of our knowledge.