This Saucy Hoisin Meatballs Recipe will satisfy your craving for your favorite Asian flavors like Hoisin, Sesame, Garlic and Fresh Ginger. This recipe is a delicious and unique twist on traditional meatballs. You will start by making a super flavor-packed beef meatball and pop them in the oven, while they bake you put together an easy-to-make Hoisin Glaze on the stove top.
It all comes together in the most delicious and crave-worthy way! Perfect served with steamed rice or fried rice and Asian Slaw with Crispy Ramen or roasted broccoli.
Meatball Ingredients
There is no skimping on flavor with the meatball recipe! Pictured below are all the ingredients you need to make these knock-out meatballs: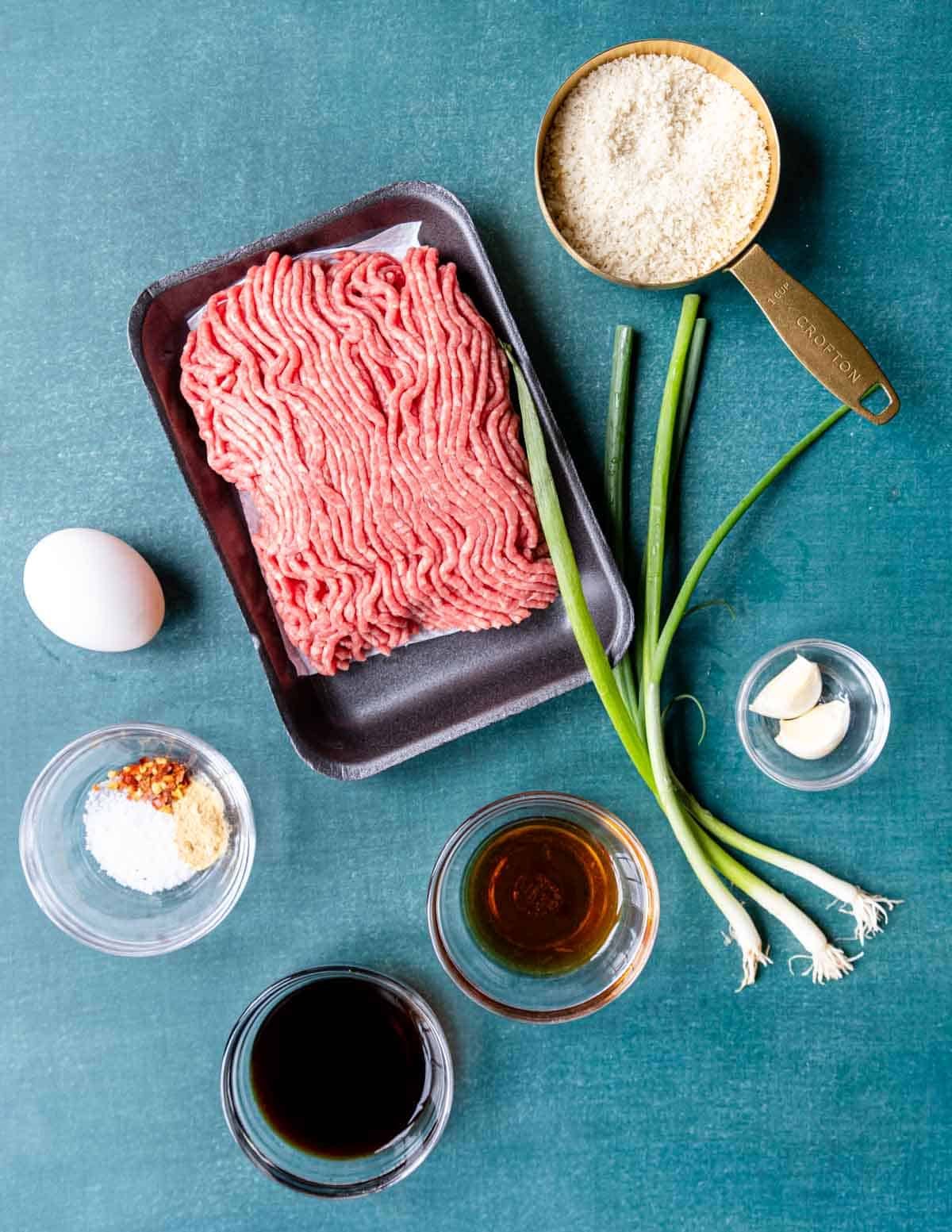 Ground Ginger – for the meatballs you will not use a fresh ginger, a dry ginger powder from your spice cabinet is what you want to use. You will use a fresh ginger in the Hoisin Sauce.
Ground Beef – using an 85% lean ground beef is the perfect balance of fat to keep your meatballs juicy and flavorful without being overly greasy!
Homemade Hoisin Glaze Ingredients
We are not going with a bottled sauce here. You will blend a combo of Asian flavored ingredients that make a perfectly balanced Hoisin Glaze for the meatballs. Pictured are the ingredients that you will need:
Hoisin Sauce: is a thick, dark, and sweet sauce that is commonly used in Chinese cuisine. It is made from a blend of soybeans, vinegar, garlic, sugar, and various spices, and has a distinct flavor that is both sweet and savory. It will be in a bottle at the grocery store and can be found in the Asian foods aisle.
Rice Vinegar: there may be two options for rice vinegar at the store- seasoned rice vinegar and rice vinegar. The recipe calls for rice vinegar, but either will work. Note that the seasoned rice vinegar may be a little sweeter.
Sesame Oil: just like the rice vinegar, there may be two options at the grocery store – toasted sesame oil and sesame oil. Both will work!
Sambal Oelek: this is an Asian Chili Paste that can be found in the Asian food aisle of the grocery store. It has a similar flavor to Sriracha without being overly garlicky. It will have a slight kick of heat and a tang of vinegar.
If you buy a bottle of Sambal you can also use it to make:
Tips on Using Ginger
There are two ways to get the fresh minced ginger you need for this Hoisin Meatball recipe.
Fresh Ginger Nobs – pictured above. My tip here is to use the edge of a spoon to scrap the brown peel from the ginger and then mince or grate the fragrant yellow flesh.
** Our Preferred Method – Dorot Gardens Frozen Ginger Cubes. There is this AMAZING product at the grocery store in the freezer section. They are little cubes of frozen minced ginger. You literally pop the cubes out of the tray and use them as needed. So easy and so convenient!
How To
You can also watch Susie make these Hoisin Meatballs on a 30 minute episode of Pinterest TV, click here.
To make this recipe you will start by making the meatballs, then while they are in the oven you will get the sauce prepared:
Make the meatballs.
In a bowl mix together the egg, soy sauce, sesame oil, panko breadcrumbs and all the seasonings. Let sit for a minute or two.
Add the ground beef and scallions. Lightly combine.
Form meatballs and place on a foil lined baking sheet. Spray the tops with non-stick spray.
Bake for 15-18 minutes at 400 degrees.
While they bake make the Hoisin Sauce.
In a sauce pot heat the vegetable oil over medium low heat.
Sauté the garlic and ginger for a minute.
Stir in the remaining ingredients and simmer until thickened, 3-5 minutes.
Toss the cooked meatballs in the Hoisin Glaze and serve!
Serving
Serve these meatballs for dinner or as an appetizer. Make sure to garnish with sliced green onions/scallions and sesame seeds. Cilantro would even be a delicious garnish!
There are several options menu options to choose from:
Dinner
One popular way is to serve them over a bed of steamed rice (we love to buy the bags of frozen rice either at the grocery store or Trader Joe's), with Roasted Broccoli.
Alternately, serving the meatballs with Fried Rice and these Asian Brussels Sprouts with Sambal Aioli will be a real knock-out dinner!
Appetizer Style
You can also serve these as appetizer meatballs! Simply make the meatballs smaller. They will only need to bake for about 10 minutes. Toss in the sauce and then place them on a platter with some toothpicks.
Meatball Sub
Serving these Hoisin Sauce Meatballs on a Sub Sandwich is SUPER non-traditional but would be delicious!
On a toasted hoagie bun add the meatballs, some sliced cucumbers and some Asian Slaw or Kimchi.
Storing
These Asian-Style Meatballs will be good in the fridge, in and airtight container for up to 4 days.
To reheat single portions place them on a microwave safe dish and microwave for about 1 min 30 sec. Cutting them in half may help them heat quicker without drying out in the microwave.
To reheat a whole recipe or multiple servings place in an oven proof dish. Heat at 350 degrees, covered with foil, for about 15 minutes.
Recipe Tips
Follow these final tips to make sure your Hoisin Glazed Meatballs are perfect!
Use fresh ingredients: Make sure to use fresh garlic, ginger, and scallions for the best flavor.
Pick your protein: You can also use ground pork or turkey instead of beef for a different taste.
Adjust the spiciness: If you prefer more spice add more red pepper flakes to the meatballs!
Use a meat thermometer: To ensure that the meatballs are fully cooked, use a meat thermometer to check the internal temperature. The temperature should read 160-165 degrees Fahrenheit.
More Meatball Recipes
---
Did you make this recipe?!
If you make this recipe I would love to hear your review. Pop down to the comment section and connect with me.
Then sign up for our Weekly Newsletter so you never miss a new recipe!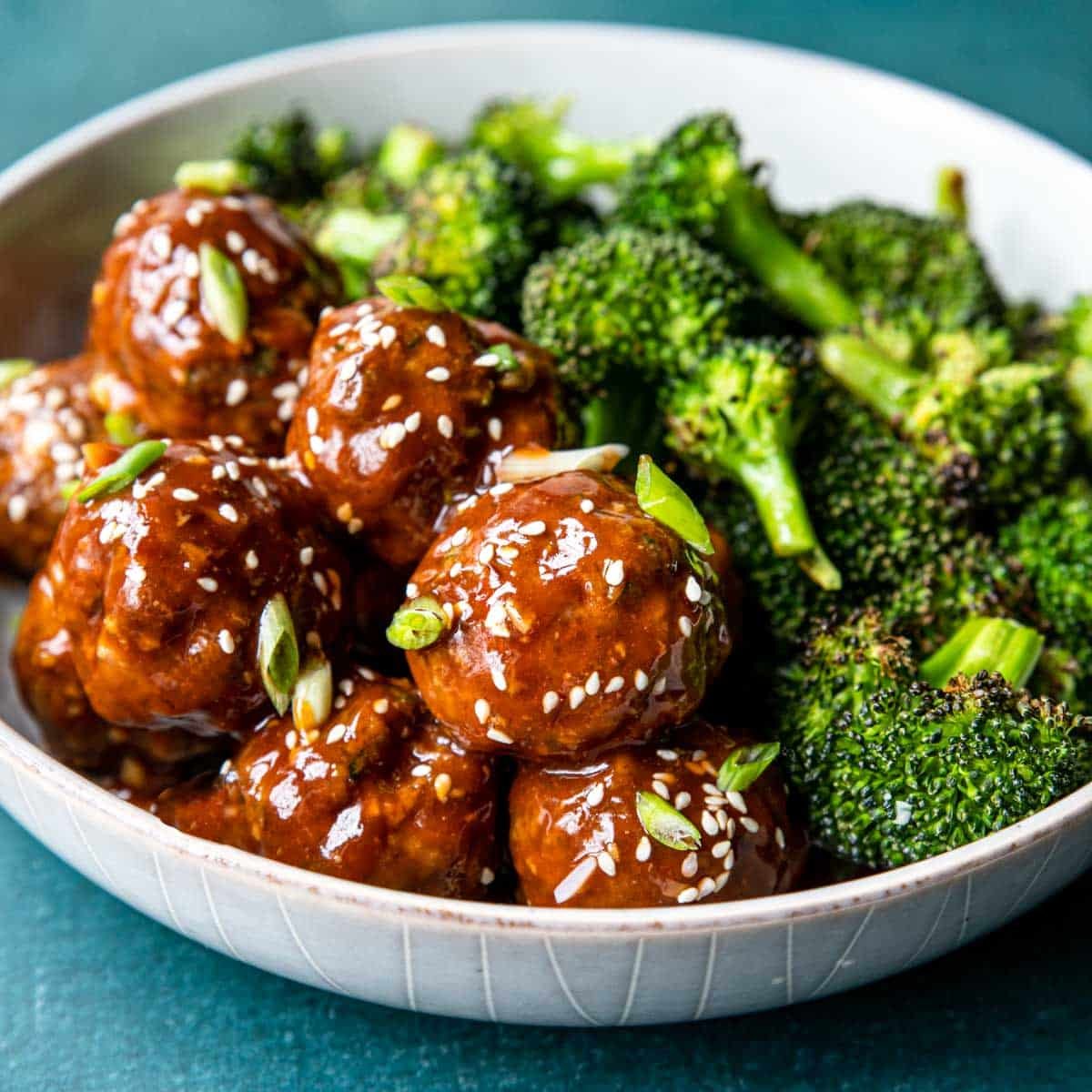 Saucy Hoisin Meatball Recipe
This Saucy Hoisin Meatball Recipe is a super delicious Asian twist on traditional meatballs. The beef meatballs are packed with flavors like sesame, ginger, and garlic. Then a sweet and savory homemade Hoisin Sauce tops it all off!
Serve it up with some steamed rice and a green veggie!
USE THE PLAYER BELOW TO COOK ALONG WITH THE FULL AUDIO RECIPE! Or you can watch Susie make these Hoisin Meatballs on a 30 minute episode of Pinterest TV.
Print
Pin
Rate
Save
Saved to Grow
Ingredients
Asian Flavored Glaze
1

tablespoon

vegetable oil

2

cloves garlic

minced

2

teaspoon

fresh ginger

minced (or use the Dorot Garden's frozen ginger cubes!)

¾

cup

hoisin sauce

3

tablespoon

ketchup

2

tablespoon

rice vinegar

2

tablespoon

water

1

tablespoon

Sambal Oelek

(chili garlic sauce)

1

tablespoon

soy sauce

(we like low sodium)

1

teaspoon

(toasted) sesame oil
Serving & Garnish
Rice, Sliced Green Onions, and Sesame Seeds
Instructions
Meatballs
Preheat the oven to 400 degrees. Line a baking sheet with aluminum foil and lightly spray with cooking spray.

For the meatballs, combine the egg, soy sauce, sesame oil, salt, red pepper flakes, ground ginger, garlic and panko breadcrumbs.

1 egg,

3 tablespoon soy sauce,

1 tablespoon (toasted) sesame oil,

¾ teaspoon kosher salt,

¼ teaspoon red pepper flakes,

¼ teaspoon ground ginger,

2 garlic cloves,

¾ cup Panko breadcrumbs

Let the mixture sit for a minute to soften.

Add in the ground beef and chopped scallions and lightly combine. Do not overmix or your meatballs will be tough.

1 ½ lbs 85% lean ground beef,

3 scallions

Form the mixture into golf ball sized meatballs and place on the prepared baking sheet. Spray the tops of the meatballs with cooking spray.

Bake the meatballs for 15-18 minutes or until they register 160-165 degrees.
Hoisin Glaze – make while the meatballs cook
For the sauce, heat vegetable oil in a saucepan over medium low heat. Add the garlic and ginger and sauté for 1 minute.

1 tablespoon vegetable oil,

2 cloves garlic,

2 teaspoon fresh ginger

Stir in the hoisin sauce, ketchup, rice vinegar, water, sambal, soy sauce and sesame oil. Bring the mixture to a simmer and cook until thickened (about 5 minutes).

¾ cup hoisin sauce,

3 tablespoon ketchup,

2 tablespoon rice vinegar,

2 tablespoon water,

1 tablespoon Sambal Oelek,

1 tablespoon soy sauce,

1 teaspoon (toasted) sesame oil
Assembly & Serving
Toss the meatballs with the sauce and simmer until heated through.

Serve the meatballs over rice topped with sliced green onion and sesame seeds.

Rice, Sliced Green Onions, and Sesame Seeds
Notes:
Appetizer Meatballs: Make the meatballs a little smaller and bake for about 10 minutes, combine with the sauce and then serve on a platter with toothpicks. Meatball Sub: Serve these saucy meatballs on a toasted hoagie with some sliced cucumbers and Asian Slaw or Kimchi. Ground Beef: you can also use ground pork or turkey instead of beef for a different taste.
Did you try this recipe? Connect with me & let me know how it turned out by commenting below!
Jump to Comments
Serving:
1
meatball
|
Calories:
129
kcal
|
Carbohydrates:
8
g
|
Protein:
8
g
|
Fat:
7
g
|
Saturated Fat:
2
g
|
Polyunsaturated Fat:
1
g
|
Monounsaturated Fat:
3
g
|
Trans Fat:
0.3
g
|
Cholesterol:
32
mg
|
Sodium:
519
mg
|
Potassium:
146
mg
|
Fiber:
1
g
|
Sugar:
4
g
|
Vitamin A:
51
IU
|
Vitamin C:
1
mg
|
Calcium:
18
mg
|
Iron:
1
mg
If nutrition facts are provided they are calculated as an estimate to the best of our knowledge.