Apple Pecan Chicken Salad makes a greats lunch or dinner. It is full of delicious flavors that compliment each other perfectly, like: apple, blue cheese, onions, and pecans all tossed in a white balsamic vinaigrette. You can even leave the chicken off the salad and it makes an amazing salad side dish.
Panera Fuji Apple Chicken Salad Inspo
The inspiration for this Apple Pecan Chicken Salad came from my love of a salad at Panera. Every time I eat there I get the same thing, the Fuji Apple Chicken Salad, and I love it! It has a perfect balance of crispy greens, tangy blue cheese, crunchy pecans, spicy red onions, and sweet apple chips. All of those components are included in this recipe too.
Crispy Apple Chips
Those crispy little apple chips are one of the stars of this salad. You can find them in the snack aisle or look in the health food section. Just make sure you get the crispy baked ones, not the spongy dried ones.
Bare Naked makes delicious apple chips in regular or cinnamon. You can also find these at Aldi in the snack aisle.
Apple Pecan Chicken Salad for Dinner
This is a salad that is filling enough to be served at dinner. But, I know my husband gets nervous if a salad, alone, is brought to the table. So I serve this with some kind of crusty bread like a ciabatta with extra virgin olive oil or a baguette with butter and garlic.
If we're souper hungry (lol) I will serve it with a delicious soup like this restaurant style potato soup, or Instant Pot sweet potato & quinoa chili, like the meal you would eat at Panera.
Make the salad your own
You can customize this salad to your preferred flavors. Here are some ideas to get you started:
sub fresh apples for the crispy dried apple chips
sub fresh pears for the apple chips
use a feta or gorgonzola cheese in place of the blue cheese
take the chicken out and have it as a side salad
use the flavored apple chips for a different flavor profile- like cinnamon
Apple Pecan Chicken Salad Tips:
Tomatoes
One thing that I HATE in a salad is cold flavorless tomatoes. When I have the time I cut my tomatoes 20 minutes to 1 hour before I assemble the salad. I sprinkle them with salt, pepper and garlic powder and let them sit at room temp. It makes the tomato a tasty part of the salad you actually want to eat.
Greens
Another great tip is to make sure your salad is completely dry before tossing it with the dressing. I like to wash my lettuce leaves whole. That way, if you do not have a salad spinner, you can easily wipe down the leaves before chopping it for the salad.
Dress your greens before adding all the yummy mix ins. For this salad I toss all the romaine with the dressing, then add the onions, apple chips, cheese, pecans and tomatoes and give it one last turn around the bowl. Then it is ready to serve and all the mix ins still look perty.
Toasted Nuts
Toast your nuts! I toast the pecans in a dry pan for about 5 minutes over low heat, stirring once in a while so they don't burn. It completely changes the flavor, for the better.
Rinsing Onions
Rinse your onions. I know I have said this before, but it is such a great tip and so easy to do. By rinsing the onions you remove the enzyme that makes that pungent onion flavor stay in your mouth for hours. When you are eating onions raw rinsing them makes a huge difference.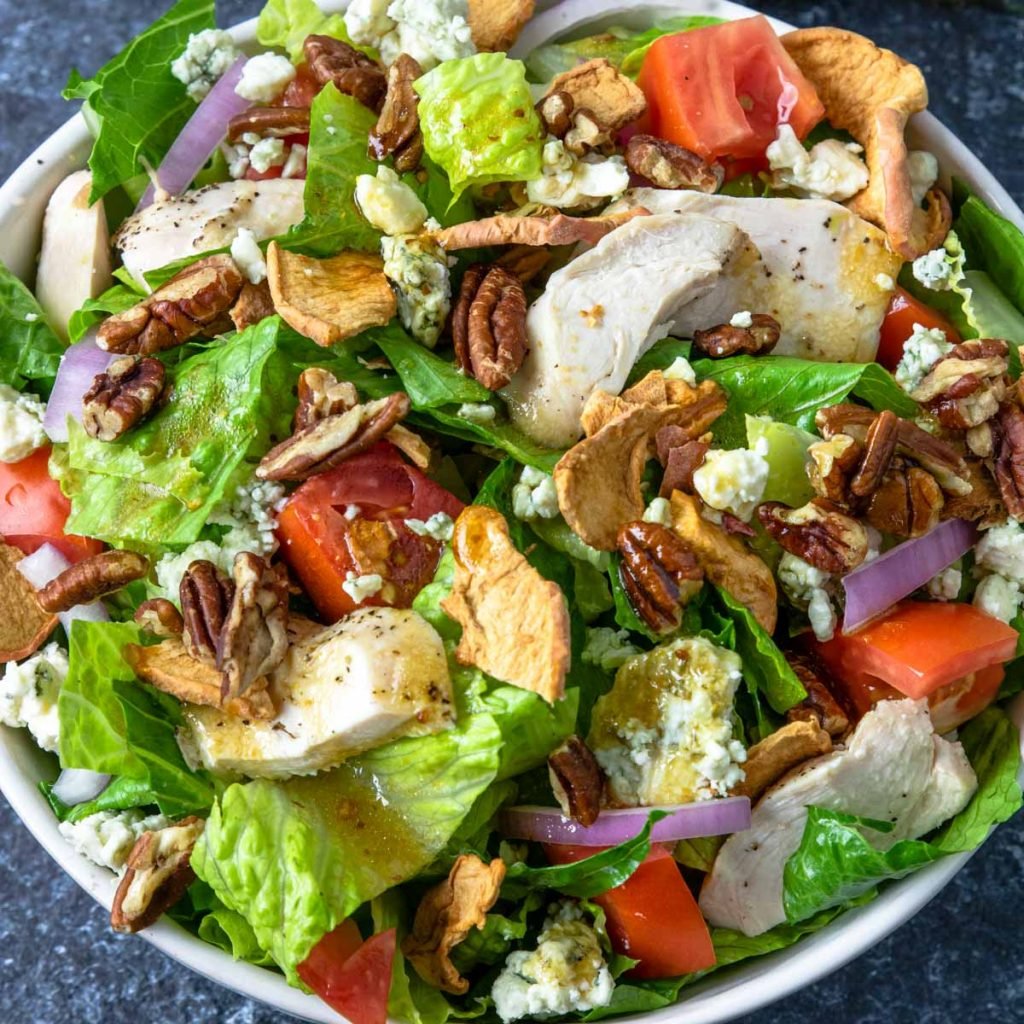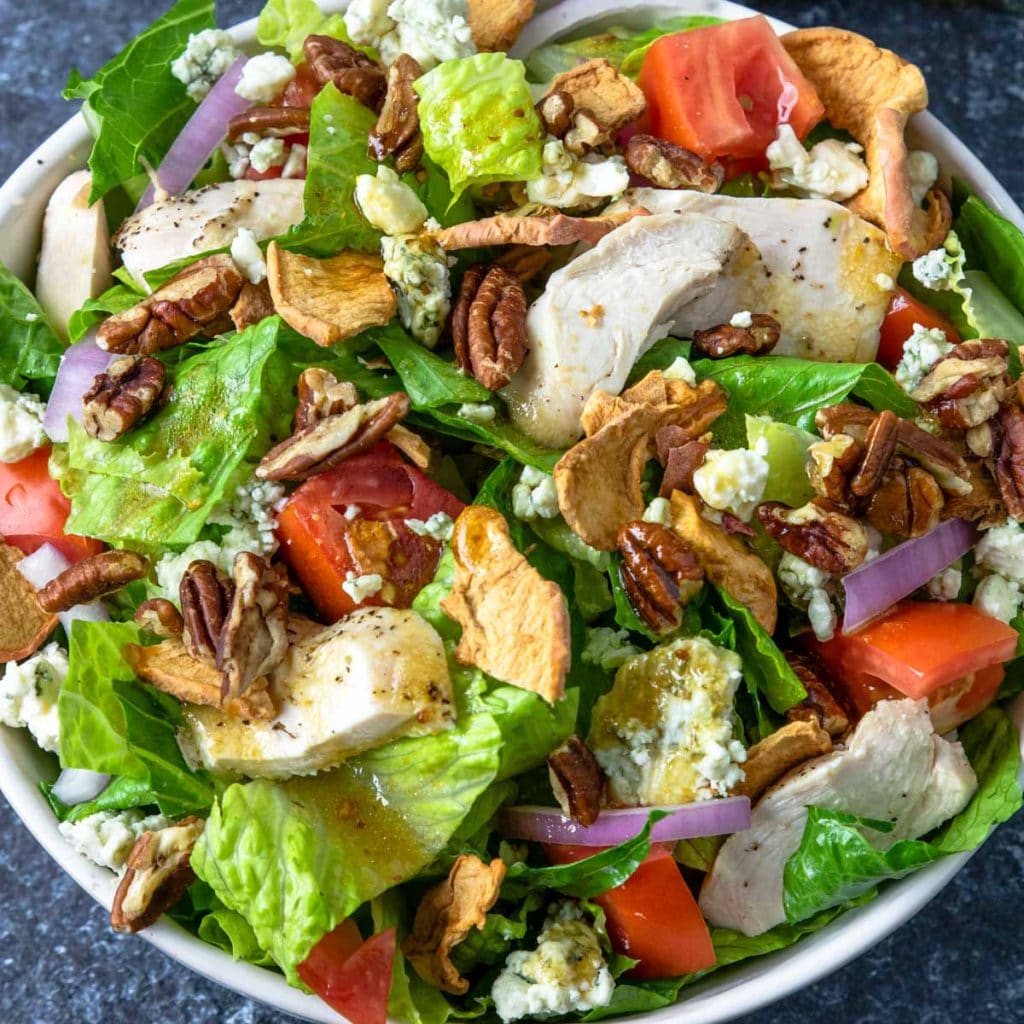 Molasses in Your Dressing
If you need your dressing to stay combined/emulsified for a long time (ie: you are setting it on the table for a dinner party) you can sub 1 tablespoon of the honey for molasses. It will change the flavor profile slightly, but not enough that it is extremely noticeable.
The molasses will keep your dressing combined and not let it seperate. #Science.
---
Did you make this recipe?!
If you make this recipe I would love to hear your review. Pop down to the comment section and connect with me.
Then sign up for our Weekly Newsletter so you never miss a new recipe!
Apple Pecan Chicken Salad
Apple Pecan Chicken Salad is a great copycat recipe for the Panera Fuji Apple Chicken Salad. It makes a great lunch or add soup for a fantastic dinner. This also can be a great side dish if you leave the chicken off.
Print
Rate
Save
Saved to Grow
Servings:
2
large dinner salads
Ingredients
Apple Pecan Chicken Salad
1

large head of romaine

washed and chopped

1

chicken breast

grilled, sliced (can also use rotisserie chicken)

½

cup

pecans

toasted and chopped

1

medium slicing tomato

diced

2

sliced rings of red onion

rinsed under cool water, helps the onion flavor not overpower the salad AND keeps you from tasting onion for the next 4 hours!

¼

cup

crumbled blue cheese

1

heaping cup crispy apple slices
Apple Dressing
½

cup

canola oil or extra virgin olive oil

¼

cup

white balsamic vinegar

3

tablespoons

honey

(see note about subbing molasses)

¼

teaspoon

garlic powder

¼

teaspoon

salt
Instructions
Apple Dressing
Whisk all the ingredients together until it is completely combined. You can also place all the ingredients in a mason jar with a lid and shake vigorously until the ingredients come together.
Apple Pecan Chicken Salad
Sprinkle the diced tomato with salt, pepper and garlic powder. Let them sit as long as you can, 10 minutes (up to an hour, if you have time)

Toast the pecans in a dry pan over low heat for about 5 minutes, stirring occasionally.

In a large bowl toss the romaine with desired amount of the apple dressing.

Add the chicken, pecans, tomato, red onion, blue cheese, and crispy apple slices- toss to coat in the dressing.

Serve!
Notes:
If you need your salad dressing to stay emulsified and not separate you can sub 1 tablespoon of the honey for molasses. It will keep the dressing together and not let it seperate.
Did you try this recipe? Connect with me & let me know how it turned out by commenting below!
Jump to Comments
If nutrition facts are provided they are calculated as an estimate to the best of our knowledge.
Originally Posted May 2017 – Recipe, Copy, & Photos Updated October 2019