It's been a long hot week and I know just what you need: a cold and refreshing cocktail that isn't sugary. A drink that is made with delicious fruity flavor and a few bubbles. Let me mix you up a Raspberry Vodka Soda, it's My Favorite Summer Cocktail.
The Raspberry Vodka Soda is a super easy-to-make cocktail that is refreshing and not sweet, or sugary but is full of raspberry flavor, and fresh citrusy lemon. It is an easy to drink cocktail, so you can have 2 or 3 and not feel like you just drank a candy bar's worth of sugar.
A Raspberry Vodka Soda is made with a 1 part Smirnoff Raspberry Vodka, 2 or 3 parts Ozarka Lemon Sparkling Water, a squeeze of fresh lemon, and it you are feeling fancy- frozen or fresh raspberry garnish.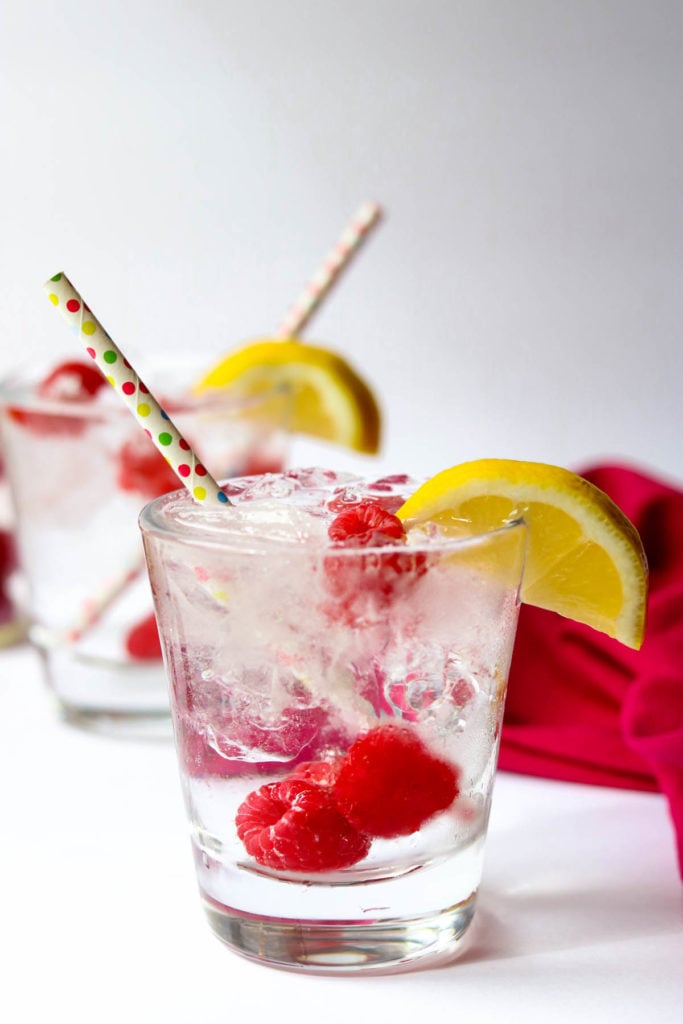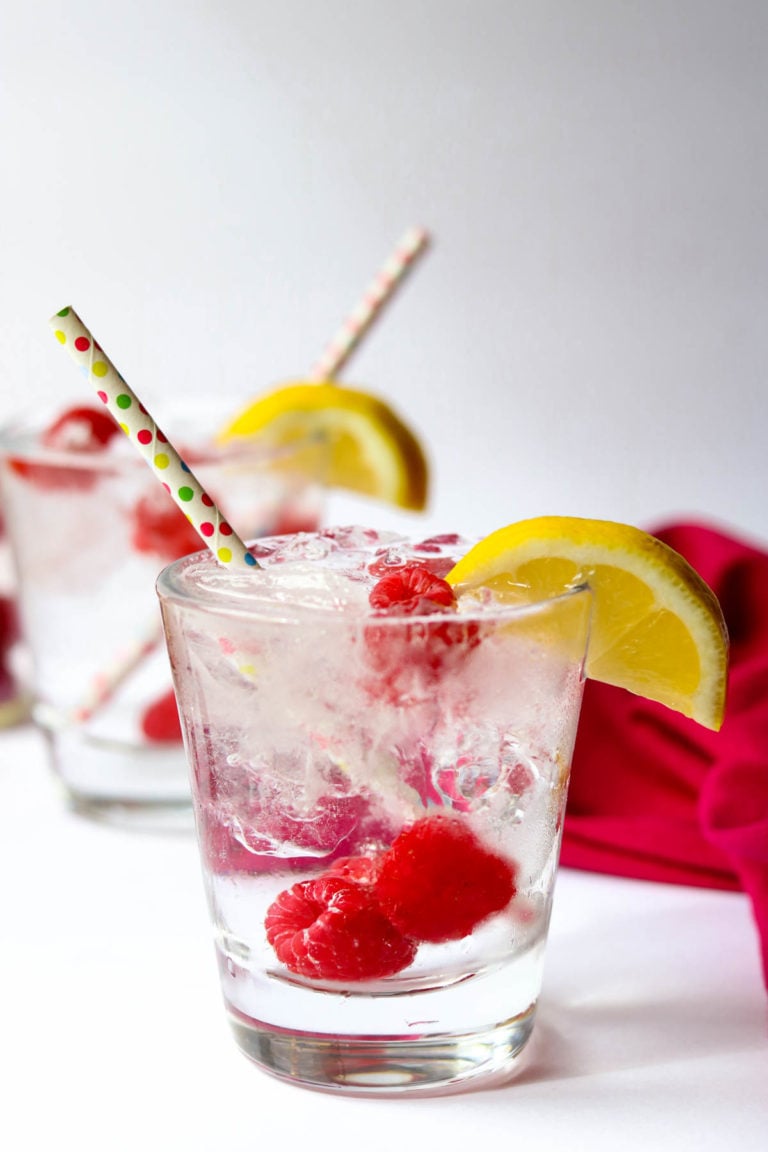 It tastes like a refreshing raspberry lemonade… if you could take all the sugar out of that lemonade and only have the refreshing flavor of lemon and raspberry remaining! Perfect!
PIN THE RASPBERRY VODKA SODA RECIPE HERE
Brand Matters in the Raspberry Vodka Soda
Let me start by saying that I am not being paid or sponsored by these brands (although I am available if they are reading : ). These are just the brands that I prefer for this cocktail, for their quality and flavor.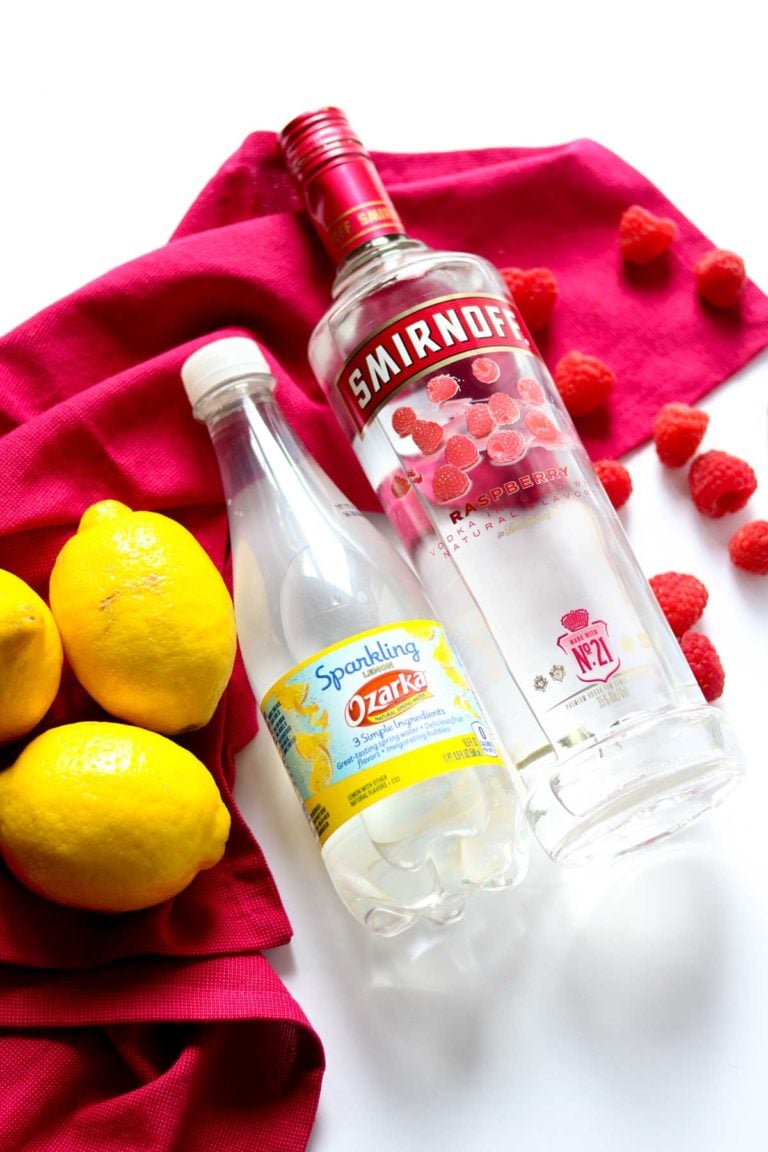 Ozarka Sparkling Lemon Water
Believe it or not there is quite a big difference in sparkling water brands. I have had some that seem more like juice or soda than sparkling water. Then there are some that seem to make you more thirsty when you drink them- how is that possible?! I love all the great flavors some brands provide, but I tell you, if you covered my eyes and I took a sip, I couldn't name the flavor because it is so faint!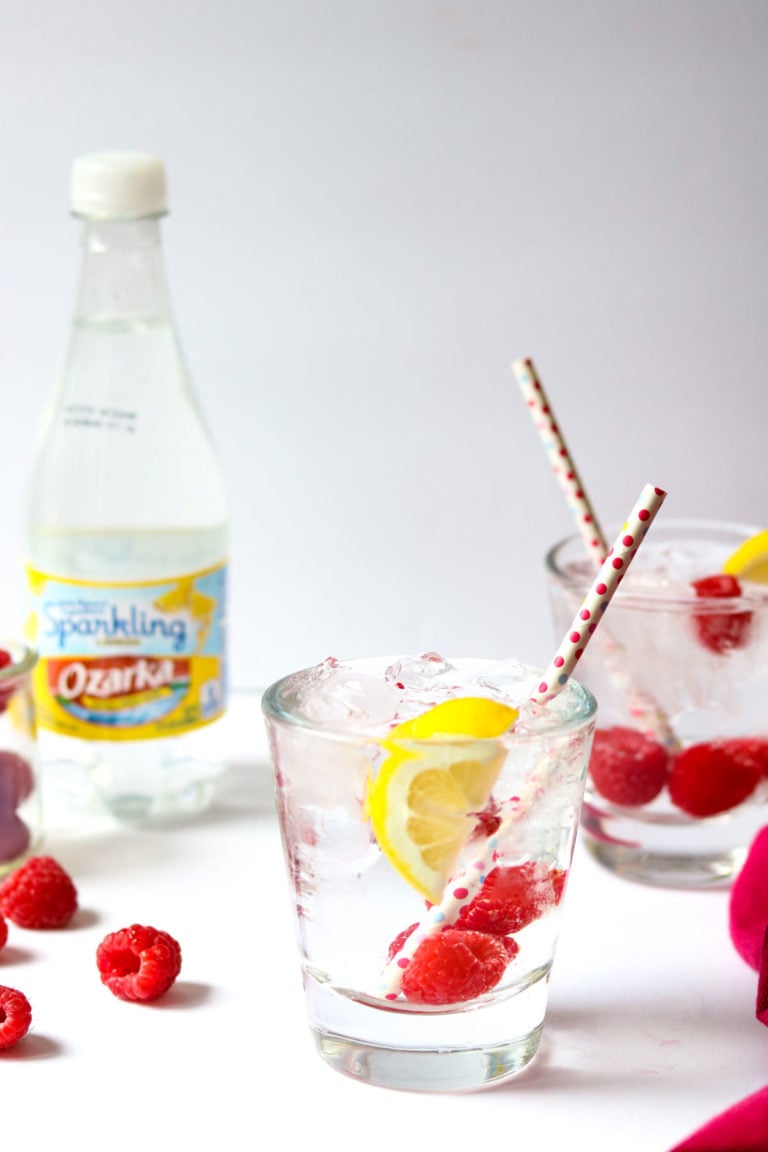 Ozarka Sparkling Lemon Water is absolutely my preferred sparkling water for my Raspberry Vodka Soda. It has great pronounced lemon flavor! If you choose an Ozarka Sparkling Lemon Water you will know you are drinking a LEMON sparkling water, and it is actually refreshing – like water should be.
Smirnoff Raspberry Vodka
Smirnoff Raspberry Vodka is my preferred brand for my Raspberry Vodka Soda. There are some raspberry vodkas that seem more like kool-aid than alcohol…I like my cocktails to be flavorful, not sweet.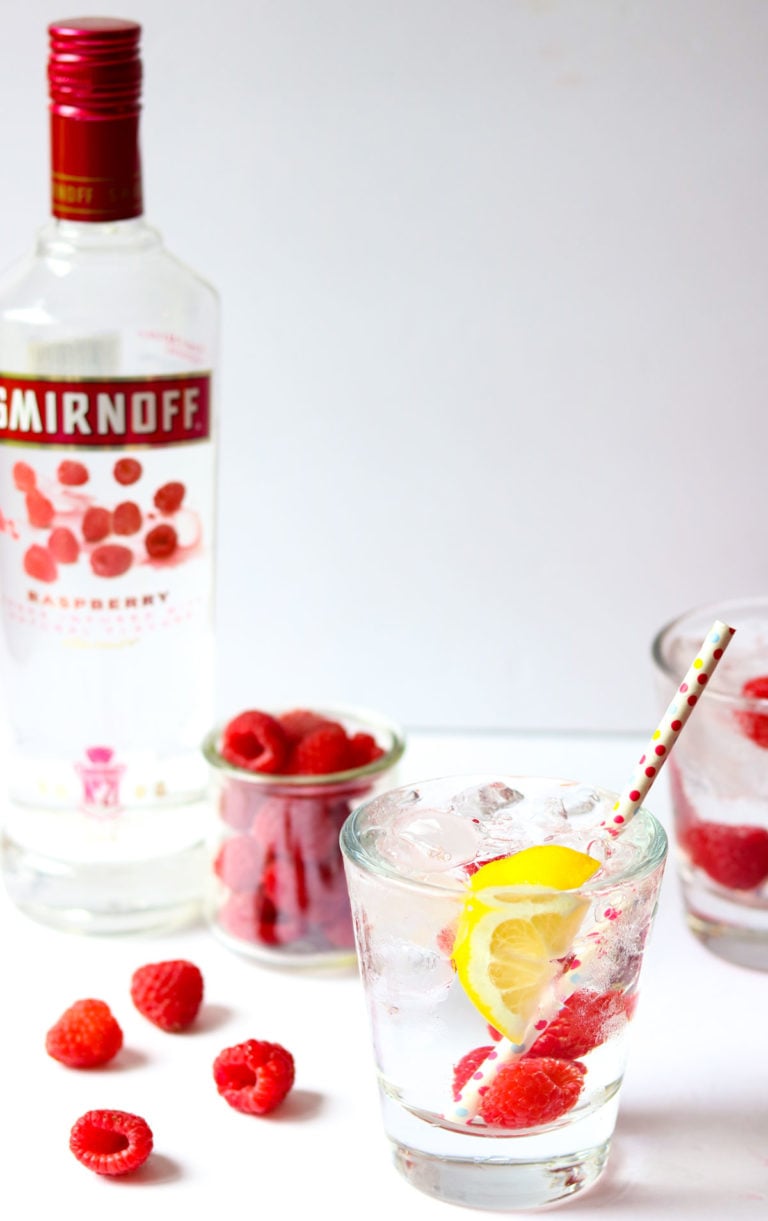 Smirnoff Raspberry Vodka has a nice clean raspberry flavor, it doesn't taste artificial. Which is just what you want, the raspberry flavor, not the sugar!
It is also priced right! I can pick up a bottle at my Super Target for around $12.00 a bottle.
Happy Hour
If you tried this cocktail and loved it, here are a couple other Mom's Dinner drinks to check out:
I hope you give this recipe for Raspberry Vodka Soda a try! Cheers!
Love- Susie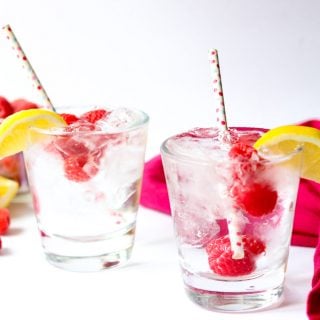 Raspberry Vodka Soda
The Raspberry Vodka Soda is a refreshing vodka cocktail that has flavors of raspberry and lemon with a touch of carbonation. This cocktail is not sweet, so it is low in calories yet has great flavor!
Print
Pin
Rate
Save
Saved to Grow
Ingredients
1

part

Smirnoff Raspberry Vodka

2-3

parts

Ozarka Sparkling Lemon Water

Lemon

**Optional- fresh or frozen raspberry garnish
Instructions
Fill a glass to the rim with ice.

Measure one part vodka and pour over the ice.

Measure 2-3 parts sparkling lemon water and pour over the ice.

Squeeze a lemon wedge and drop it into the glass. Optional to garnish with fresh or frozen raspberries

Give it a stir and enjoy!
Notes:
One Part is a measurement that can mean 1 ounce, 1 tablespoon or 1 cup. The key is keeping all "parts" equal. For example since this recipe calls for one part vodka and two – three parts sparkling water, you want a mixture of 1 ounce of vodka and 2-3 ounces of sparkling water.
Did you try this recipe? Connect with me & let me know how it turned out by commenting below!
Jump to Comments
If nutrition facts are provided they are calculated as an estimate to the best of our knowledge.