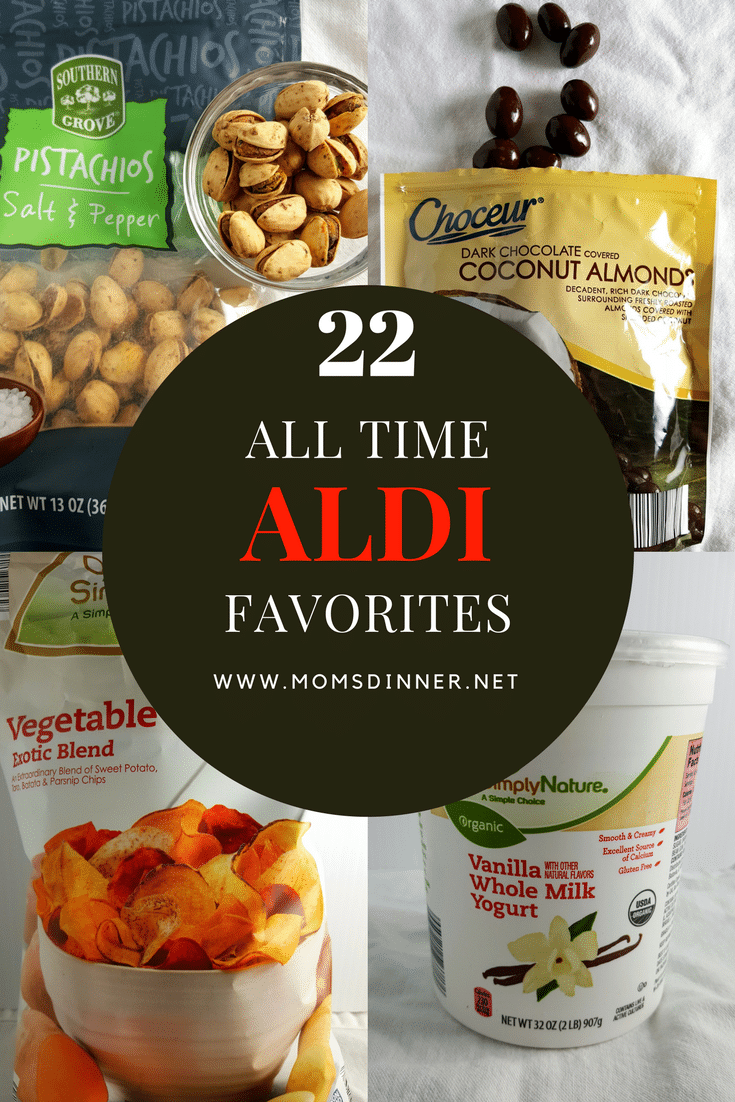 I love Aldi! Maybe bordering on obsession. I get antsy if I haven't been there in a while. Last time we went on a week and a half vacation I couldn't wait to get home and go to Aldi. I'm so weird: )
The first time I shopped at Aldi I was blown away by the prices! It has changed my pantry and fridge completely. I am able to buy better quality food within my weekly budget (more organics and better produce), yet it has probably cut my  grocery bill by ⅓, and I am able to buy more variety because of the lower cost. If you haven't shopped at Aldi- GO! And if there isn't one near you, they are expanding this year, so keep an eye out!
Few things to remember before you go:
Take a quarter to get a cart. All the carts are tethered together. You get a cart by putting a quarter in to release it from the other carts. When you return the cart you get the quarter back.
 Bring your own bags and be prepared to bag your own groceries. When I go shopping at Aldi I just grab the empty boxes from the shelves and box my groceries. Using boxes instead of bags actually makes putting the groceries away faster because I can see everything without digging thru bags. If I really think ahead I will box my groceries up by category: freezer, fridge, pantry, house supplies.
For a long time Aldi did not take credit cards. They changed that policy last year. Which is wonderful because I gotta get my Southwest Airline Points!
If you find an item that you love marked "seasonal", buy a lot because they won't have it for long.
GREAT BRANDS AT ALDI
You won't find a lot of traditional commercial brands at Aldi. They carry their own branded items. However, a lot of their copycat items are packaged almost identical to the popular brand, especially cereal and snacks. Which is nice when you have picky kids that are suckers for popular brand marketing.
Here are just a few of the Aldi store brands that you will find:
Specialty Select: Considered Aldi's "gourmet" items. If you see this label you can trust it includes quality ingredients.
Simply Nature: When you see this brand you get simple, honest ingredients without artificial colors, flavors or unnecessary enhancers. Not all Simply Nature items are organic. Look for the organic label to find the Simply Nature organic options.
Never Any! : You will find this label in the meat section at Aldi. They are products with no added hormones, antibiotics or animal by products. I really like their Never Any chicken and lunch meat.
Fit and Active: This label is great for people watching the scale. It is the line designed to be better for you- lower sugar, more whole grain, less fat.
 MY FAVORITES:
Here are just a few of my favorite kitchen staples that are in my grocery cart every week … or when we run out and need a refill!
Organic Peanut Butter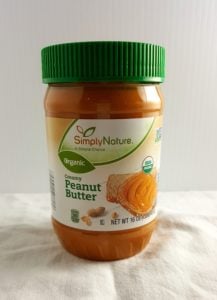 The main reason I love this peanut butter is because there's no added sugar. Believe it or not when you are looking for that, it is hard to find! The only ingredients in this peanut butter are organic peanuts and sea salt. Perfection! And it doesn't hurt that it's organic.
I generally use this on toast, waffles topped with strawberries and drizzled with honey, in smoothies, and on apple slices.
Brioche Buns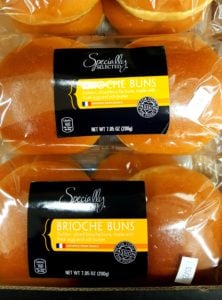 These brioche buns come in a 4 pack and are anywhere from $1.79-$1.99 per pack. Comparatively, that is the same price of the store brand white buns at a local grocery store! If you want a really good hamburger or grilled chicken sandwich you want to start with this brioche bun. They add a wonderful layer of flavor to any sandwich! They also give you the perfect ratio of bread to sandwich filling, every time.
Organic Extra Virgin Olive Oil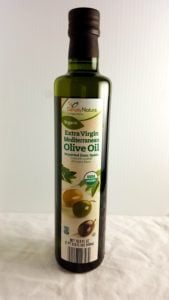 There is something different about this oil. It has a really intense evoo flavor that can even be a little spicy. Which I love! I use this oil for salad dressings, pan/sauteing oil, and on toast. It also makes a great bread dip- see the ingredients below. Aldi carries a non organic option too, but it doesn't have the same depth of flavor as this one. At $3.99 per bottle I'll stick with the organic version!
Table Bread Dip: Organic Extra Virgin Olive Oil, Dash of Garlic Powder, Sprinkle of Red Pepper Flakes, Dried Basil, Dried Oregano, Pinch of Kosher Salt, and Black Pepper to taste. Mix all together in a shallow plate for dipping crusty warm bread.
Artisan Lettuce 4 pack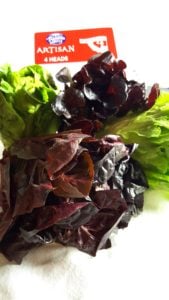 When I first came across this I thought it was a specialty item- or a summer item. I have since found, to my delight, that they carry this year round! It is the best deal going, in my opinion. For only $1.99 I get a 4 pack of beautiful petite lettuce heads. The variety in the pack changes, but usually includes some kind of baby romaine, red romaine, endive variety, or butter lettuce. To my surprise the price doesn't change thru the year- it is $1.99 even in December.
When I get home from the store I clean and chop it all together, put it in a large bowl in the fridge and I have salad ready any time (usually a side salad with dinner or a salad for lunch). Since it is petite lettuce the leaves are the perfect size for sandwiches.
Salt & Pepper Pistachios
#momluxury. This is a favorite snack for me. I get the crunch without having chips. They have a ton of flavor from the salt and pepper. I even find them a little spicy, in a good way. Costco has a similar pistachio but I really like the Aldi version better- they have a little more flavor because they are coated with more salt and pepper.
It is a perfect item to add to a cheese board or include in an appetizer spread. They pair really well with cocktails and beer. They also make a great car snack for long trips. I think they are around $4.99-$5.99 per 16 oz bag. Pretty good deal for pistachios!
Tikka Masala Sauce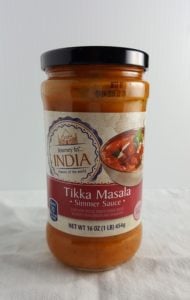 We love Indian food at our house… by "we" I mean me and my husband! I have some pretty picky kids. This tikka masala simmer sauce stands up to my favorite Indian take out. It has a buttery, almost lemony flavor, is creamy yet has a little spice in the background. It is so easy to use and makes a great dinner. This is a great recipe video showing how to make chicken tikka masala with this sauce . I pair it with some basmati rice, naan, and one of my favorite Trader Joe's Indian side dishes: channa masala or palak paneer, found in the freezer section.
 House Vinaigrette
I'm not quite sure where to start with this one, I love it that much! I actually eat MORE salad because of this dressing. I have never found a dressing that has just the right amount of vinegar kick, sweetness, garlickiness and herbiness. This vinaigrette checks each one of these categories for me, and then some.
At $1.89 it is a steal! However I have to admit that sometimes it is hard to find. So when it is in stock I buy two or three bottles. It is like liquid gold, and apparently a lot of people agree. The box that it comes in includes 3 other types of vinaigrette- those are always in stock- but people pick around those to find the House Vinaigrette!
Gluten Free Pretzels
Let me start by saying that we are not gluten free. I say that because I want you to know how good these are! I do not buy them because I HAVE to, I buy them because they are sooooooo much better than a traditional pretzel. They have this crazy crunchiness that I love. If you ate a gluten free pretzel and the then ate a regular pretzel right after, you would probably think that the regular one was stale or soggy! And the flavor of the gluten free pretzel is almost buttery. You will love these #snackgamechanger .
These run $1.89 per 8 oz bag. It is a little smaller bag than traditional pretzels, but it is worth it. Trust me!
Sprouted 7 Grain Bread
Sprouted bread is a freezer staple for me. I like having it around because it is a healthier alternative to regular flour or whole wheat flour breads. I really only use this bread toasted. It is a perfect breakfast or snack when topped with peanut butter and honey, or avocados and a fried egg.
A lot of sprouted breads I have had in the past just taste like cardboard. The Aldi one has a great grain-y flavor and hearty texture. It's definitely worth a try at only $2.98
Whole Grain Waffles
Another freezer staple at our house. They are delicious and inexpensive. My kids love to have these for breakfast with maple syrup. I like them because they are a whole grain option and a little better for them than traditional pancakes. I like to eat them topped with peanut butter, strawberries, and honey.
Coconut Almonds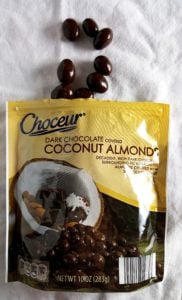 These coconut almonds are like little drops from heaven! There is an almond in the center surrounded by a coconut cream and the coated in a dark chocolate. They are the perfect little sweet craving fix. You can eat 3 or 4 of them and completely satisfy your sweets craving.
They have the exact same coconut almond at Trader Joe's…. for more $$.
Milk Chocolate Hazelnut Wafers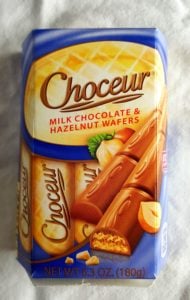 Another great chocolate fix treat! These are little individually wrapped candy bars, about the size of my middle finger. They have a hazelnut cream center surrounded by crispy wafers and then coated in a milk chocolate. They are kind of reminiscent of Rocher chocolate flavors. Which is one of my favorite chocolate treats!
Organic Whole Milk Vanilla Yogurt
We love this yogurt at our house. It was one of the first staples I was excited about at Aldi. To buy a similar organic yogurt at the grocery store was close to $5 per tub. This one at Aldi is only $2.98!
I like to have this yogurt for breakfast topped with dried mixed berries, granola, and cashews. My daughter likes it as a snack, and sometimes will dip granola bars into the yogurt. I also will pack it in the kids lunches in little our little Sistema to go cups.
Cranberry Cashew Honey Granola (gluten free)
Again, let me say that we are not gluten free. I buy this granola because it is really good. However, if you are living gluten free this is a wonderful option! It tastes just like regular granola that just happens to be gluten free.
We like to use this on top of yogurt in the morning. See the yogurt above.
Milled Flax Seed
I love buying this milled flax seed at Aldi. It is super inexpensive at around $1.99 per bag. I keep it in my fridge after it has been opened and it lasts about 6 months.
Flax is a staple in my smoothies. I put a spoonful into the blender with all the other ingredients. You get all the health of the flax with no added flavor. I also like to use it as an egg substitute in baking. This is a great recipe for banana nut muffins that uses flax eggs. You just mix  1 tablespoon of flax with 2.5 tablespoons water and let it thicken for 5 minutes. That mixture will sub one egg in baking.
Caesar Salad Kit
Favorite at our house!!! I usually do not like the pre made caesar salad kits at the store. Most of the dressing have a funny fishy flavor that I cannot stand. Not this one!! It is creamy, parmesan-y, garlicky and perfect. It makes a wonderful and easy side salad with any dinner. I really like to have this one on hand for pizza night. I add a little chopped and seasoned tomato, extra croutons and chopped black olives to the salad. Delish!
PS. It's only $1.99.
Vegetable Chips Exotic Blend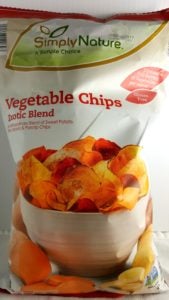 This is an adult snack at my house. They are the Aldi version of those really expensive, $4-$5, Terra Chips you can find in health food stores. At Aldi they are $2.79/ bag. It is a delicious blend of taro, batata, sweet potato and parsnip chips. They are a great mix of flavors and textures and a much healthier alternative to white potato chips.
I like to have these at lunch with a salad or sandwich. I also like to dip them in cottage cheese for a snack… probably not the snack for everyone, I know! : )
They also make a great addition to a cheese board. They add a really nice pop of color and a great mix of flavors.
Organic Wildflower Honey
Just a great pantry staple that is inexpensive, organic, and delicious!
I use this in baking, to sweeten my smoothies, on top of peanut butter toast, and as a sub for syrup on my waffles. It is also a great natural cough suppressant for kids.
Organic Brown Rice & Quinoa Pasta (gluten free)
I first started buying this pasta at Trader Joe's. They are now carrying it at my Aldi- #winning!
It is a wonderful healthy alternative to white pasta. It has great flavor and cooks up perfectly…. and my kids like it, bonus.
Ciabatta Sandwich Rolls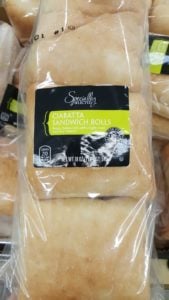 Yet another freezer staple for me. We love ciabatta bread at our house. It has great flavor and toasts up so deliciously. This bag comes with 6 buns and is around $2.50 per bag.
At dinner I like to pull these out of the freezer to make oven garlic bread. I just drizzle with a little extra virgin olive oil, sprinkle with garlic powder, and toast them in a 400 degree oven until they start to brown. They also make a great egg, avocado and bacon sandwich- yum!
Organic Free Range Chicken Broth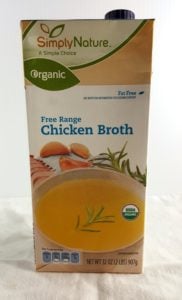 This is a pantry staple in my kitchen. It is only about $0.20 more than the regular chicken broth, so I go for the organic free range option.
Cranberry Almond Chicken Salad
This is a wonderful item to keep in your fridge for easy lunches. It is a great mix of white meat chicken, cranberries, and almonds with a delicious mayo dressing.
I like to have this chicken salad on top of spinach for a large lunch salad. I dress the spinach leaves with Aldi's House Vinaigrette (see above) and then put a big dollop of the chicken salad on top. You could also have it with butter crackers for an easy lunch to take to work (or send to school with your kids, if they will eat chicken salad). It also makes a great sandwich on the brioche buns (see above) topped with spinach or arugula.
Some of the links in this post are affiliate links supporting Mom's Dinner. If you should decide to purchase items thru these links I may receive compensation. However, know that it will NOT cost you any extra! You are just helping me continue Mom's Dinner… so a huge THANK YOU! Also important to note that I only recommend products that I use or have used, and love!