It's Here, It's Here…Aldi Holiday…..Hurry! Run to your nearest Aldi and stock up on all the amazing specialty products they have for the holidays! Only available during November & December or while supplies last!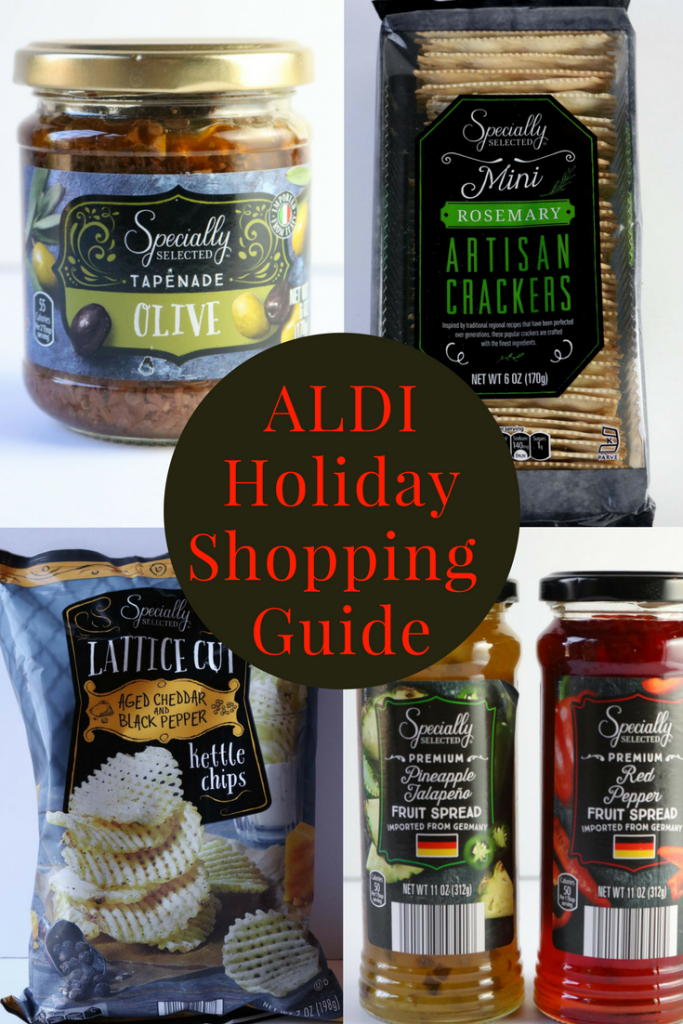 This is one of my favorite times of year to go to Aldi. The store is full of new and exciting items that are not available any other time of the year. Somewhere in mid-November you start to see hints of all the amazing Aldi holiday products- specialty cheeses, crackers, popcorn, spices, nuts, dips…… By mid-December the store is completely stocked and aisles are fully devoted to these products. You will find a mix of black and red packaging, the black packaging are the Specialty Select items, and the red packaging are the German holiday items.
I went to my local store recently and it is bursting with new exciting items. Here are a few that you will want to check out to make your holiday entertaining easier and cheaper!!
((Maybe consider getting in your car and driving to the store IMMEDIATELY… before they are gone!))
Aldi Holidays- Crackers & Chips
Mini Rosemary Artisan Crackers

The perfect addition to a cheese board. These are thin and crispy with a hint of rosemary. Perfect to go with a vintage white cheddar or goat cheese.
Lattice Cut, Aged Cheddar & Black Pepper Kettle Chips
The flavor of Aged Cheddar and Black Pepper Kettle Chips is wonderful. They are slightly cheesey mixed with a hint of black pepper. However the real standout quality is the lattice cut. They are crispy because they are a kettle chip yet they are delicate because of the unique cut. Moms- think Chick-fil-a french fry in a chip with cheese and pepper! YES
Baked Cheese Bites
These little nuggets are flavored with green olive, cheese, and rosemary. If you are entertaining for the holidays they would make the perfect addition to a meat, olive and pickle tray or they would be a great item to put on a bar where cocktails are mixed. If you are having one cocktail with friends before going out to dinner they are the perfect little savory bite to put in a bowl for munching. At $2.99 per bag they will not break the bank.
Black Truffle & Olive Oil Kettle Chips
THIS IS IT- if you buy nothing else on this list buy the Black Truffle & Olive Oil Kettle Chip!!!!!! This is the product I wait for all year. Come November I put people on alert to look for these chips so I can run to the store the minute they are in. I always buy 4-5 bags, and at $1.99 per bag it's no big deal! If I thought they would stay fresh a year I would buy an entire box- or 2.
Black Truffle & Olive Oil Kettle Chips have the most amazing garlicky, truffle, salty, earthy flavor mixed with the crunch of a kettle chip. Last year at Christmas we quickly went thru 2 bags in one night. Our guests could not believe they were from Aldi. They for sure thought it was a specialty item from somewhere like Dean & Deluca.
They make the perfect crunchy addition to a cheese tray or as a side dish to burgers, or just to munch on with cocktails… really they go anywhere, they are PERFECTION!!!!!!!
Bagel Chips
We love these little bagel chips. They come in three flavors: everything, sea salt and I think cinnamon sugar. They make a great snack as is or topped with cream cheese, or the perfect addition to an appetizer tray that has dips or sauces. They are usually only available this time of year so I stock up when I see them.
Aldi Holidays- Dips & Sauces
Olive Tapenade
I love including a few dips and sauces on a cheese and meat board. This Olive Tapenade is the perfect addition when paired with a bagel chip or crostini. This dip also comes in a Red Pepper Tapenade if olives are not your thing.
Pepper Jellies
If you have not had cream cheese topped with a sweet & hot jelly you are missing out! It is the most delicious and easy appetizer you can make. If you do not feel confidant in the kitchen this is your product! Just leave a block of cream cheese on the countertop to come to room temp, just a couple hours. Next, top it with one of these pepper jellies and serve surrounded by Ritz Crackers. Perfectly Easy!
Caramel Dip
The hand in this picture is my 5 year old son saying "This stuff is the business!". We love this Creamy Caramel Dip. No heating required, open the tub and it is ready to go. Last time we had a friday-after-school-mom-and-kid-happy-hour we put this out with some sliced apples and pretzels… it was gone in a flash and the kids LOVED it! It is not a sticky caramel dip, it's more creamy – like the name indicates. At $1.99 per tub it is something you want to stock up on when you spot it in the store!
Aldi Holidays- Beverages
*** Quick Note: Unfortunately my local Aldi stores do not carry wine, beer, or liquor. I know, it's terrible : ( Otherwise this section would be 3 times as long. Heck, I would probably have a completely separate article for Aldi Wines!
Nespresso
I do not have a Nespresso machine so I am not totally familiar with this product. But, I thought it was good to let those of you that do have one know this product is available at Aldi! I believe the Nespresso pods can be pretty expensive. However at Aldi you can get these three flavors, 10 count each, for $3.49 per box. Ristretto High Intensity Level 10, Apulia High Intensity Level 9, and Lombardy High Intensity Level 8.
Mulling Spices
Obviously this is not a beverage but it most definitely belongs in the beverage category. It makes the most delicious drinks AND whole house potpourri!
To use as a potpourri: Simmer a few tablespoons of mulling spices in water over low heat in a small pot. If you have a small crockpot it does the trick too. It provides the most delicious scents of apple, cinnamon, orange, and clove. What could be more festive!? And it perfumes the WHOLE house- delicious!
To use in drinks: There is a great recipe for Apple Cider and Mulled Wine on the side of the tin. But if you want a "MOM'S DINNER" drink treat try using these mulling spice in my Winter Sangria.
Chai Tea
Do you love a Chai Latte from Starbucks? I do! But it definitely tastes like a "treat" because it is so sweet. With these easy Chai tea bags you still get those strong Chai flavors without the sugar. Sometimes I will add a little milk to make it more latte-like. If I want that sweet-treat flavor I will add a little sweetened coffee creamer.
Aldi Holidays-Nuts & Popcorn
Marcona Almonds
This is another "if you buy nothing else from this list, GET THIS ITEM!!". Marcona Almonds are the delicate, sweet, and buttery cousin to a traditional almond. Aldi carries three flavors during the holidays- Rosemary, Truffle and Sea Salt. AND THEY ARE ONLY $4.99 PER BAG. This is a huge treat and a great item to include on a cheese and meat board or in a holiday gift basket with some red wine and cheese.
Nut Trio Tins
These nut trios come in the cutest silver tins and definitely seem gift worthy- think Sunday school teacher, preschool teacher, mailman, neighbor. At $9.99 each it makes the perfect $10.00 gift. For a little larger gift they can be added to a gift basket:
Savory Nut Trio, Bottle of Red Wine, a Holiday Kitchen Towel, and a Fancy Kitchen Hand Soap
Sweet Nut Trio, Bottle of Red Wine, Tin of Mulling Spices, Box of Assorted Crepe Cookies (see below)
You can choose the Savory Tin (rosemary almonds, chai spiced almonds, and roasted/salted deluxe nuts) or the Sweet Tin (cookies and cream almonds, cinnamon creme almonds, and honey glazed pecans).
Aged White Cheddar Popcorn
If you know me then you know that I LOVE popcorn!! When we go to the movies I will always get popcorn, even if I am busting full from dinner. This aged white cheddar popcorn does not disappoint. Make some hot chocolate, open a bag of this Aldi popcorn, and curl up to watch a little Polar Express. Perfect Friday Night!
Aldi Holiday- Cheeses
Assorted Cheese
When I am entertaining one thing you will always find in my kitchen is a board full of assorted cheese, crackers, dips, olives, nuts, and meats. I think that is the same for most people. It is an easy appetizer to put together and usually satisfies everyone.
During the Holiday season Aldi has a wonderful assortment of cheese- gruyere, cheddar, goat cheese, brie, blue, camembert. A couple of my favorites are the goat cheese – they usually have different flavors or toppings, vintage english cheddar, and the truffle cheddar. They all run from $2.99-$3.99 each.
Aldi Holidays- Sweets & Treat
***Quick Note- This is a SMALL sampling of the sweets that they have during the holidays! You can find an abundance of cookies, chocolates, german sweet treats and a plethora of unique candies that make amazing stocking stuffers and Christmas treats.
Gingerbread House Kit

It is tradition at our house to put together and decorate gingerbread houses during December. I LOVE IT!!!!!!! Everyone gets so excited to decorate the houses. We buy extra decorations, assemble the houses, make hot chocolate, and organize all the candies into their own little bowls. It's beautiful! Half way thru I am the only one left decorating, there is candy all over the table and the floor and the kids have turned to eating the candy. Now that's real life… but I look forward to it every year!
These houses at Aldi are great! They are big kits, come with candy and frosting, and run $6.99 per kit.
Muddy Mix
At our house this is called "Puppy Chow". It is a delicious sweet snack to have out during the holidays. At a traditional grocery store the name brand product can be pricey and comes in a SUPER small bag. This is a good sized bag (I don't know the exact weight) and is only $2.29 per bag.
Double Chocolate Cookies
We love these cookies! They are similar to a Milano that you would find in a traditional grocery store. They have a creamy chocolate center sandwiched between two sweet butter cookies. They make a great addition to a dessert tray.
Florentine Cookies
Another item that would make a great addition to a dessert tray. There is an assortment of almond and nut clusters coated with milk chocolate, white chocolate and dark chocolate. A great treat at only $2.99 per box.
Assorted Crepe Cookies
Another item for a perfect dessert tray. These crepe cookies are delicate wafer rolls with assorted chocolate toppings. They would be perfect with an after dinner coffee.
Vanilla Creme Brioche Rolls
Will you have a house full of guests for the holidays? Don't forget to plan breakfast! You can make it super easy with these Vanilla Creme Brioche Rolls. Add a fresh fruit bowl and my Make Ahead Sausage Egg Cups or Ham and Kale Egg Cups , put on a pot of coffee and you are done!
North Pole Express Chocolate Bars
OK! Are these not the cutest chocolate bars EVER! OMG.. I couldn't resist. They would make the greatest gift topper or stocking stuffer. Some of the flavors are super unique: Crispy Caramel Popcorn, Peanut Butter & Jelly, Peanut Butter Filled, and 2 Milk Chocolate. They are a little pricey at $6.99 for 5 bars but they are so dang cute.
Aldi Holidays- Paper
Wrapping Paper
I just happened upon this last time I was at Aldi and I'm guessing it will not last long because it is too good of a deal! They have HUGE rolls of QUALITY wrapping paper for $1.99 per roll, yup you read that right! And the prints are cute to boot.
Parchment Paper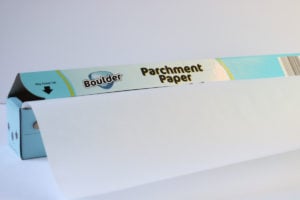 This is a stock up item!! Aldi only carries parchment paper during the holiday months. That is when I buy at least 4 rolls to keep in the pantry for the year. Of course you can get this in a traditional grocery store, but it is super expensive!
I like to use parchment when I bake sweets, especially cookies. It guarantees that your cookies will not stick to the pan and helps from them over browning in the oven. I also have a recipe for BBQ chicken in parchment. ((I haven't transferred the recipe from my You Tube channel to my web site so if you are interested here is the link for that recipe. BBQ Chicken in Parchment with Sweet Potatoes, Peppers, and Onions))