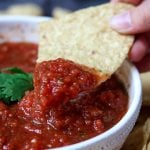 Print
Restaurant Style Salsa
A homemade salsa recipe that is full of tomatoes, cilantro, lime juice, garlic, and onions. It is easy to make in the food processor or blender with simple ingredients.
Servings
4
cups (approx.)
1/4

cup

fresh cilantro

2 1/2

tbsp

fresh lime juice

1/3

cup

red onion, sliced and rinsed under cool water

2

plump garlic cloves, chopped

3/4

tsp

kosher salt

1/2

tsp

black pepper

3/4

tsp

sugar

28

ounce

canned diced tomatoes

(use the brand you think is the very best)
In a food processor or powerful blender add the first 7 ingredients, plus 1/2 cup of the tomatoes. Blend until there are no large chunks of onion or garlic remaining. About 30 seconds. You may need to scrape the sides down to make sure all the bits get blended.

Add the remaining canned tomatoes. If you are using a food processor pulse 5-6 times, to get the perfect texture. If you are using a blender only blend for an additional 4-5 seconds, to retain some of the tomato texture.

Serve immediately or store in an airtight container for up to 5 days. The salsa does get more flavorful after a day in the fridge.
Salsa Making Tips
Tomatoes are the star of this recipe, so make sure you buy the very best canned tomatoes. This is not the time for a value brand.
Rinsing your red onions will help the onion flavor to not linger in your mouth long after you have eaten the salsa.
If you can make the salsa a day in advance the flavor is even better after a day in the fridge.
For spicier salsa add some fresh jalapeno or cayenne pepper in the first blending, with the onions and cilantro. 
To add a smokey flavor AND extra heat put 1 chilie in adobo in the first blending, with the onions and cilantro.