Since it doesn't feel at all like spring I am sneaking in one more soup recipe, Instant Pot Beef & Barley Soup with Pistou.
Instant Pot Beef & Barley Soup with Pistou is a delicious twist on a traditional Beef and Barley Soup. You start with all the traditional ingredients- onion, garlic, stew meat, barley, carrots, celery, beef soup base, and beef broth. After it is all cooked in your awesome Instant Pot for 30 minutes you stir in the Pistou. This is the secret ingredient that takes your Beef & Barley Soup to the next level of flavor country!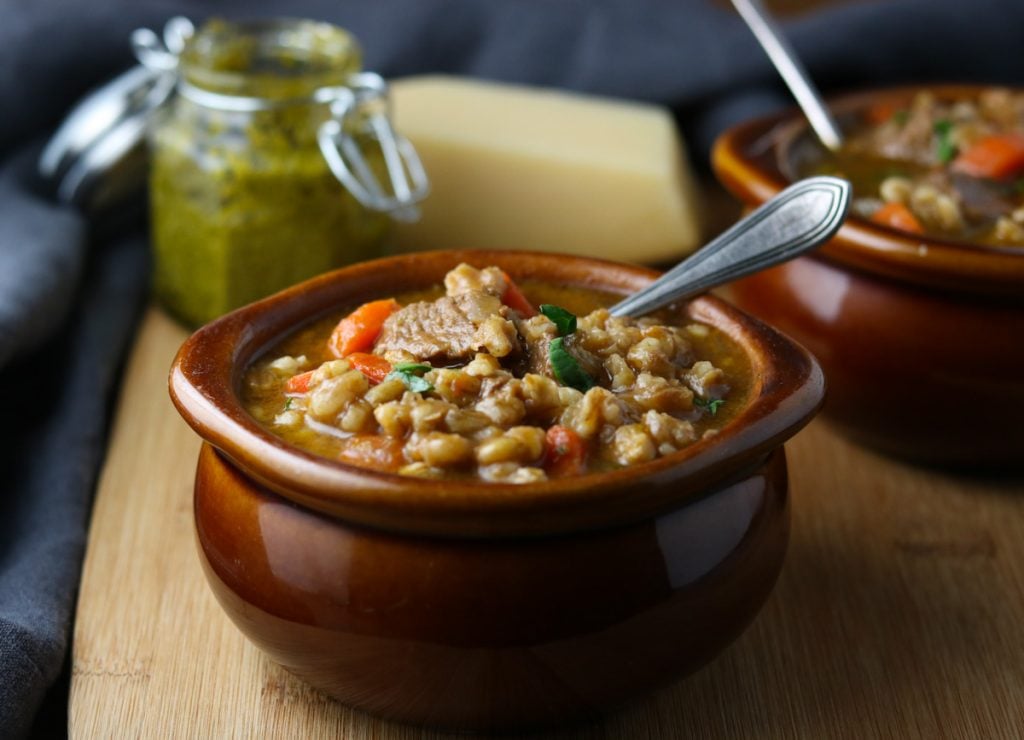 This soup is not only delicious, it is super cost effective. The recipe calls for stew meat, which is very inexpensive. You certainly would not want to grill stew meat or eat it like "steak". It is a cut of beef that requires longer cooking times at lower temps- low & slow. Which would normally mean 4-5 hours in the crock pot or oven. However, in the magic machine that is your Instant Pot, that means only 30 minutes. I love a time saver.
The stew meat, when cooked in the Instant Pot, is FALL APART TENDER, and luckily the barley cooks beautifully in the same amount of time.
What Is Pistou?
Now, you are probably saying- What the heck is Pistou? Let me tell you!
Pistou is a traditional French sauce or condiment made from olive oil, fresh basil, fresh garlic, and cheese. It is similar to pesto, but lacks pine nuts or walnuts.
In France, Pistou is traditionally served by the spoonfuls into vegetable soup. It adds a delicious and intense garlic and basil flavor.
I make a very non-traditional Pistou for this recipe. It is my "Mom's-Dinner-Lazy-Pistou"… AKA "I don't normally have fresh basil in my kitchen. So I use what I have".
I keep things easy and improvise by using a store bought pesto, garlic powder, fresh grated parmesan cheese, and then I add tomato paste from my pantry, to give the soup a delicious kick of tomato. I mix all this together into a thick paste (psssst…the pistou will look horrible, but smells out of this world delicious!).
Then, I stir the Pistou mixture into the Beef & Barley Soup and as it dissolves it turns the broth into a blend of flavor perfection. It is a rich beef broth mixed with deep tomato and basil flavors and just a hint of salty worcestershire and parmesan in the background. You will never want to have traditional Beef & Barley Soup again!
Instant Pot Beef & Barley Soup with Pistou for Three Seasons
This soup is a great dinner to plan in three seasons: spring, fall, and winter.
Instant Pot Beef & Barley Soup with Pistou is obviously great in winter because who doesn't love a hearty soup full of delicious barley and savory beef in the winter?!
I always love a good soup in fall, when you are sick of the heat of summer and are ready for a big sweater, a fuzzy blanket, and a bowl of steaming soup.
Believe it or not this soup is a great spring dinner too. Especially for those cooler, rainy, spring nights when you just want to stay dry and warm inside. The basil notes in this soup give it a fresh spring flavor. It will have you dreaming about garden fresh basil in the summer to come.
Instant Pot Beef & Barley Soup with Pistou for Dinner
Since this is a pretty hearty soup I usually just serve this with crusty bread or crackers. Depending on the season, here are some side item ideas:
Fall- Fresh sliced fall apples and soup
Winter- Gooey grilled cheese and soup.
Spring- Fresh green salad and soup
Share the Love
Did you make this AWESOME RECIPE and loved ♥ it so much!? Don't forget to let me know. Drop me a line or leave me a comment on this page. Nothing makes me happier than when people tell me they made my recipes for dinner. If you share the recipe OR a picture of this cooking away in your kitchen be sure to tag me @momsdinnerinsta on Instagram or @momsdinner on Facebook.
I hope you give this recipe for Instant Pot Beef & Barley Pistou a try in your kitchen.
Love- Susie
Save the recipe for Instant Pot Beef & Barley Soup with Pistou for later. Pin it here:
Instant Pot Beef & Barley Soup with Pistou
A delicious, fast and easy Beef & Barley Soup made in your Instant Pot. The addition of a basil, tomato, and parmesan Pistou takes this traditional Beef & Barley Soup to the next level. This is the flavorful and hearty beef and barley you want when you are craving soup.
Print
Rate
Ingredients
1

tablespoon

oil

2

cups

yellow onion

chopped (about 2 small onions or 1 large onion)

4

plump garlic cloves

minced

1

lb.

beef stew meat

1 inch cubes

1

cup

celery

chopped

1½

cups

carrots

peeled and sliced

32

oz.

beef broth

1

cup

water

1

tablespoon

beef base

1

cup

barley

I use Bob's Red Mill Pearl Barley

1

tablespoon

worcestershire

1

bay leaf

1

teaspoon

sugar

½

teaspoon

salt

black pepper to taste
Pistou
2

tablespoons

pesto

2

tablespoons

tomato paste

½

cup

fresh grated parmesan cheese

½

teaspoon

garlic powder
Instructions
Turn your Instant Pot to saute mode and add the oil to the inner pot. Once it is hot add the onions and garlic and saute until the onions are translucent, about 3-4 minutes.

Add the beef and saute until browned, about 5 minutes. It's ok if the beef is still pink inside.

Stir in the carrots and celery and saute for another 3-4 minutes.

Pour in the beef broth and water and scrape up any browned bits from the bottom of the pot. Stir in the beef base until it is dissolved.

Turn the saute mode off.

Stir in the barley, worcestershire, bay leaf, sugar, salt and pepper. Scrape down the sides of the pot, making sure all the bits are in the liquid.

Put the lid on the pot and lock it in place, turn the vent spout to "seal".

Set your Instant Pot to Meat/Stew mode (or pressure cook mode), on high, for 30 minutes.

While the soup cooks combine all the ingredients for the Pistou in a small bowl, and set aside.

After the Instant Pot cooking time is up, let your pot do a natural release for 10 minutes, then do a quick release to vent the rest of the pressure.

Stir the Pistou into the hot soup until it is completely dissolved and mixed into the soup. Remove the bay leaf before serving.
Notes:
Leftovers can be stored in the fridge in an airtight container for up to 3 days.
This soup will thicken quite a bit when it is stored in the fridge. You may have to add some broth or water to bring it back to the desired consistency.
Did you try this recipe? Connect with me & let me know how it turned out by commenting below!
Jump to Comments
If nutrition facts are provided they are calculated as an estimate to the best of our knowledge.